When you spend money on a product like a new mattress, which sometimes ends up costing a lot if you are choosing a high-quality brand, then you expect it to fulfill all your requirements and to provide long and peaceful nights for years.
In the market, however, you may find anything and everything, and without a bit of guidance, you may end up with a bad quality mattress. Among the most important things to consider when purchasing a new one is to be sure that it doesn't slump in the future. And here we are, to list you the best mattresses that won't sag and give you some tips to buy the perfect one which will not disappoint you in the future.
Why Do Mattresses Sag?
Firstly, though, we need to understand the root of the problem. Sagging could be the result of many different causes; let's see together a couple of them.
Bad materials used. It's clear to everyone how the quality of the materials and of the final product affect strongly the performance of the latter in the long run. Be careful of how a mattress is advertised: oftentimes we find ourselves with beautiful ads full of nice words but, when we look at it more carefully, we find out it is all a façade.
The foam is not resistant enough. The foam contained in the mattress is exposed to significant pressure every night for many consecutive nights. Mattresses typically soften over time and give less support precisely because the foam "gives up" a little bit more every night, finally creating this feeling of sagging.
Remember that all mattresses will, eventually, sag. It's part of their life cycle. However, there are better ones that will stand the test of time much better than others. Here are our top picks.
Best Mattresses That Don't Sag
DreamCloud – Best Hybrid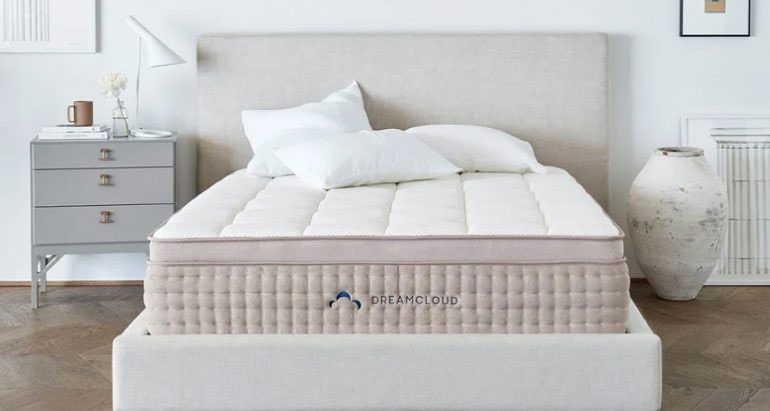 Overview
The mix of memory foam and innerspring coils are designed in the best way possible to give you comfort tonight and for a long time as well, since you can be sure it won't sag for many, many years.
Price Range: $600 – $1100
Mattress Type: hybrid
Firmness: 6.5 (medium)
Warranty: lifetime warranty
Pros and Cons
+ Medium firmness so that you can make everyone happy.
+ Stay-put technology, which allows you to get up or move without waking your partner up.
– Since it's hybrid, it's a bit heavier compared to others.
Description
DreamCloud is a high-quality, award-winning mattress, classified as the best hybrid one on a few occasions in 2020. It is made of four layers plus a cover soft to the touch, all designed to give you the pressure relief and coolness needed. All materials used are premium and certified by CertiPUR-US®, free of mercury, heavy metals, formaldehyde, and more.
What Makes It Good?
The gel memory foam is fantastic at pressure relieving, and waking up with aches or soreness is a thing of the past when you purchase the DreamCloud mattress.
WinkBed – Best for Heavier People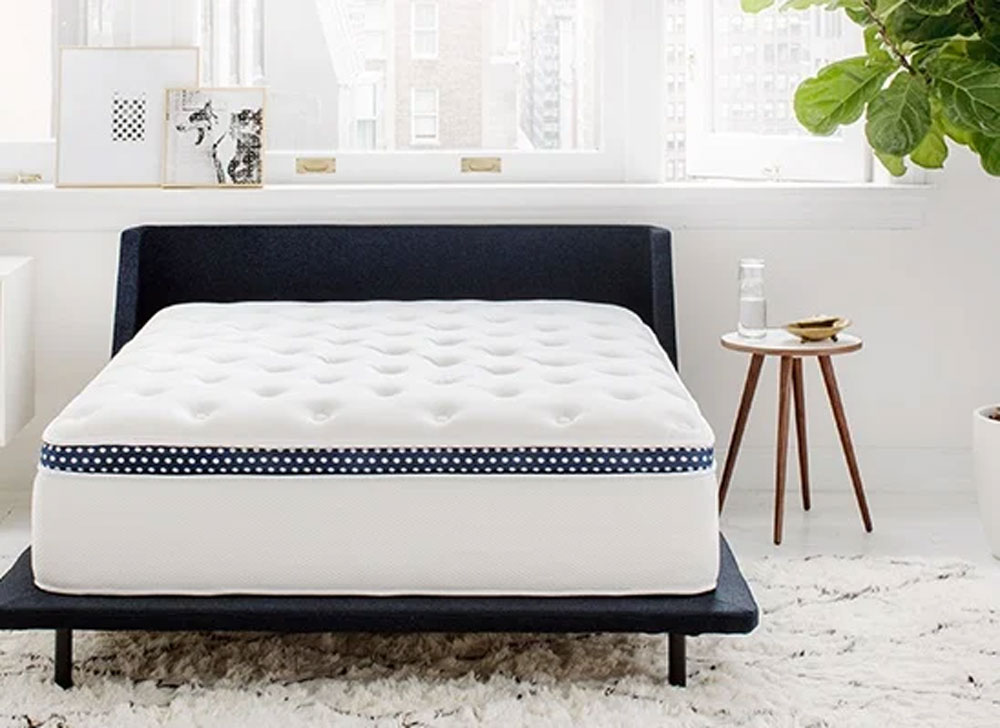 Overview
A handmade luxury hybrid bed, voted by the New York Times as the best innerspring mattress in the market, the WinkBed will give you decompression support for your spine, optimal sleep temperature, and advanced pressure point relief for your sweetest nights.
Price Range: $750 – $1550
Mattress Type: hybrid
Firmness: 3 (soft), 5 – 7 (medium – firm), 9 (firm)
Warranty: lifetime warranty
Pros and Cons
+ A luxury, no sagging mattress not at a luxury price.
+ Four options of firmness to choose from, one especially dedicated to the heavier people, which makes this mattress a perfect one for them.
– Does not support platform beds.
Description
The WinkBed design puts together all the high-quality materials and components for a superior feeling of comfort: the Tencel® cover based on eucalyptus; gel infused foam to give your body the perfect cushioning and support, pain relief and muscle tension easiness; individually wrapped pocketed coils for multiple support zones; extra-edge™ support system so you can sleep at the edge of the bed without discomfort thanks to this no sag mattress design.
What Makes It Good?
The quality of the materials. Many of them are natural, such as the cover based on eucalyptus; all of them are able to give you the best sleep because of their features. For example, the Triple Layer Heat Disperse™ keeps you cool at night by pulling away moisture and heat from your body.
Saatva Latex Hybrid – Best Latex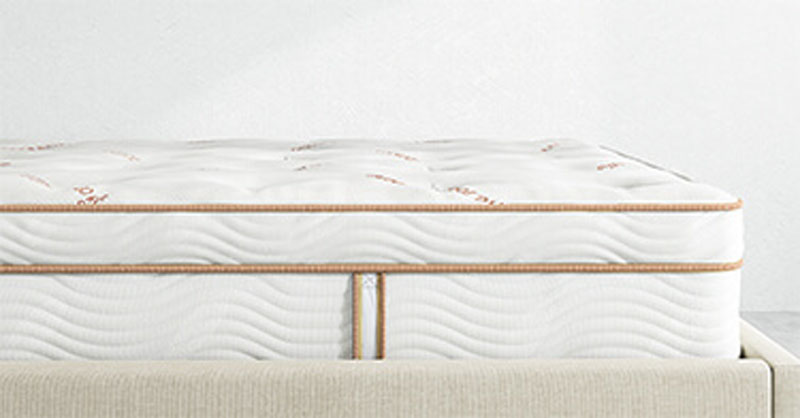 Overview
With their 100% natural and organic latex hybrid product, Saatva gives you the guarantee that you are buying a non sagging mattress since it is specifically designed to give you a comfort that lasts, as the Talalay natural latex is the most resilient, consistent, and durable material for your mattress.
Price Range: $900 – $2300
Mattress Type: hybrid
Firmness: 7.5 (firm)
Warranty: 15 years
Pros and Cons
+ Eco-friendly and organic materials, so it's good for you and the environment.
+ The best latex on the market.
– Not the perfect firmness everyone would be happy with; especially good for heavy sleepers.
Description
The Saatva Latex Mattress is made of sustainable materials that come together in five layers: an organic cotton cover, treated with Guardin® botanical antimicrobial; an organic, nEw Sealander wool free of harmful chemicals; the Talalay latex divided in five zones of density for maximum pressure-point relief; steel, recycled coils to respond quickly to your body's movements; finally, and organic eco loft bad to prevent all the layers from shifting.
What Makes It Good?
The latex is perfect to give you responsive and ultra-breathable comfort that will protect you from back and joint pain, keep you cooler at nights and give you long-lasting support.
Idle Sleep Hybrid – Best Flippable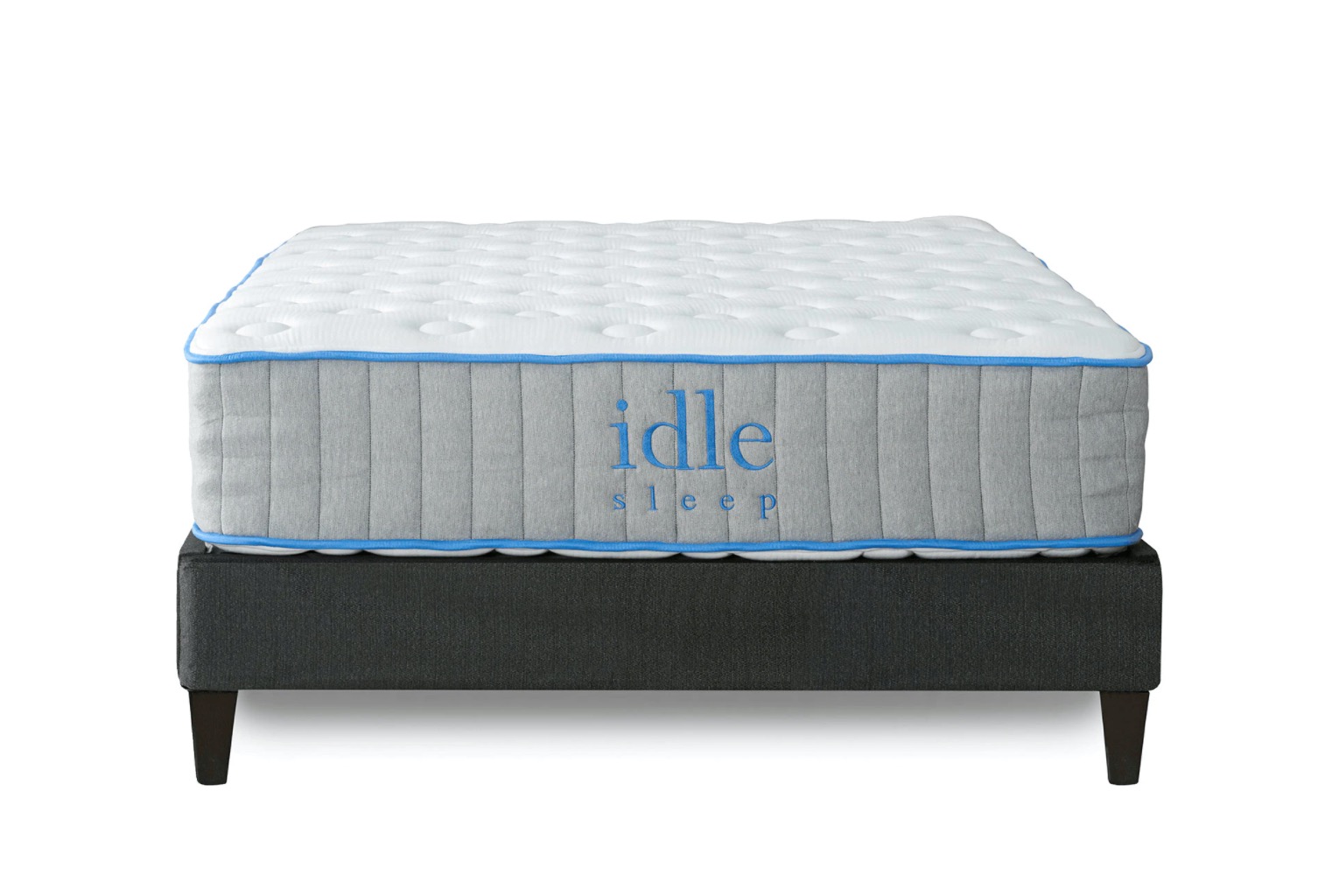 Overview
They claim to be "America's Best Value Hybrid Mattress". Well, they certainly offer some interesting perks, such as their Buoyancy Foam, which offers 400% more support than the regular one. It also keeps you cooler since there are no visco elastic chemicals in it, certified by CertiPUR-US®.
Price Range: $700 – $1300
Mattress Type: hybrid
Firmness: 5 (medium), 9 (firm)
Warranty: lifetime warranty
Pros and Cons
+ Finally, a two-sided mattress so that when one wears out, there is always the other side.
+ Incredible 18-month trial, something never quite seen before. Truly risk-free.
+ Easy to unbox.
Description
When it comes to some key aspects, there truly is no other mattress like the Idle Hybrid. We already mentioned their Buoyancy Foam, which reacts faster than memory foam and thus offer better support and pressure relief. The mattress gets support and is able to reduce motion transfer thanks to the 1000 smart support coils that substitute the traditional springs.
The mattress is easy and free to return, as well as very simple to unbox. You can choose whether you want it softer, firmer or both (the first on a side, the latter on the other) so if sometimes you decide to try the other one you can easily do so.
What Makes It Good?
The fact that you can flip it and use the other side is perfect and shows how much they care about delivering to their customers a good product. Once one side starts to wear off, don't buy a new mattress: the new one is right where the old one is.
Nolah Signature 12 – Best Foam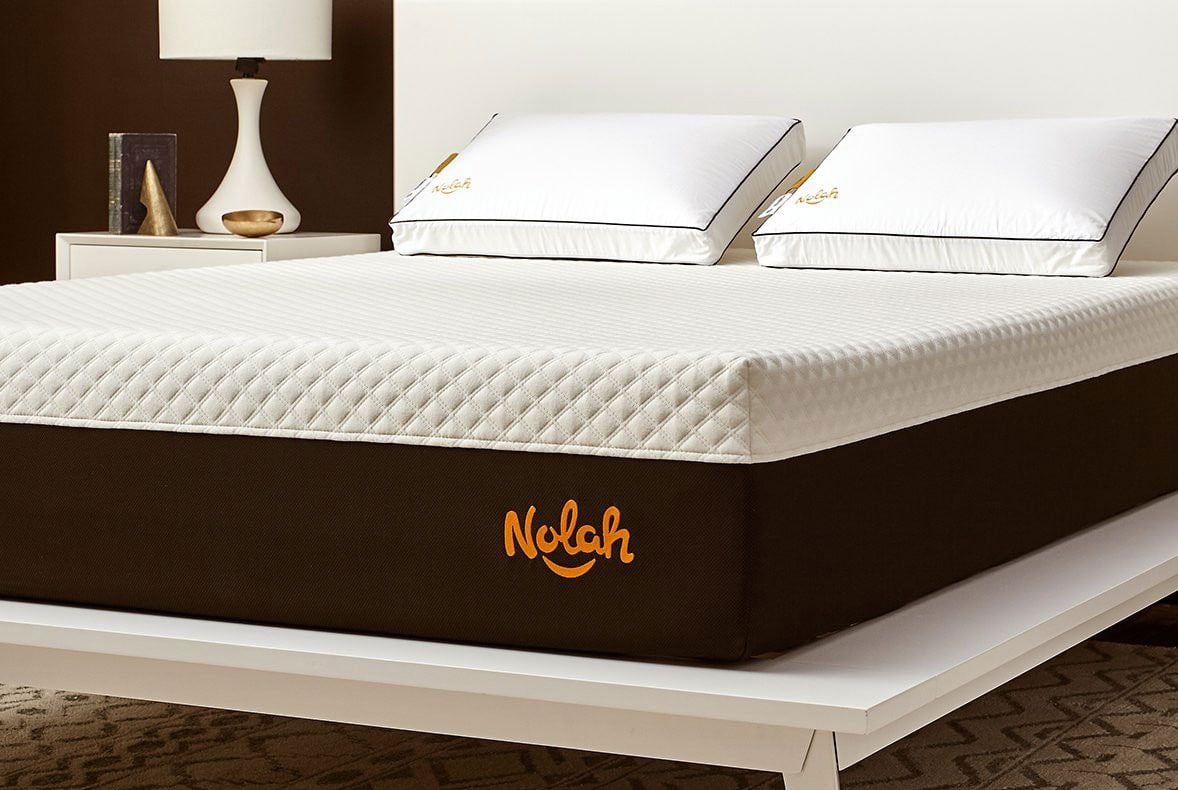 Overview
The Nolah 12'', their newest upgrade from the Original 10'', comes very close. A flippable firmness so you can choose between soft or firm in a next-gen Nolah AirFoam™, it is one of the most durable mattresses on the market.
Price Range: $850 – $1500
Mattress Type: AirFoam™
Firmness: Soft or Firm
Warranty: lifetime warranty
Pros and Cons
+ Choose the firmness you feel most comfortable with.
+ 12'' tall and with a reinforced base, the mattress will last a very long time.
– You have to pay $170 dollars for the 120-night trial period.
Description
The Nolah Signature 12'', certified by CertiPUR-USⓇ is made of three main elements. A soft, as well as firm, side made of foam specifically designed to keep you cool during the night, relieve pressure from your joints and back, and perfectly contour your body; a deep, supportive, and high-resilient foam, which is durable and will keep you firm; finally, a reinforced core foundation.
What Makes It Good
The foam with which it is made, the Nolah AirFoam™, is of excellent quality. Keeps you cool, is breathable, gives you pressure and pain relief, and will be the most comfortable thing you have slept on ever. What is more, it is tested to last for as long as you can thin; one of the reasons why they offer you a lifetime warranty.
Amerisleep AS5 – Best Luxury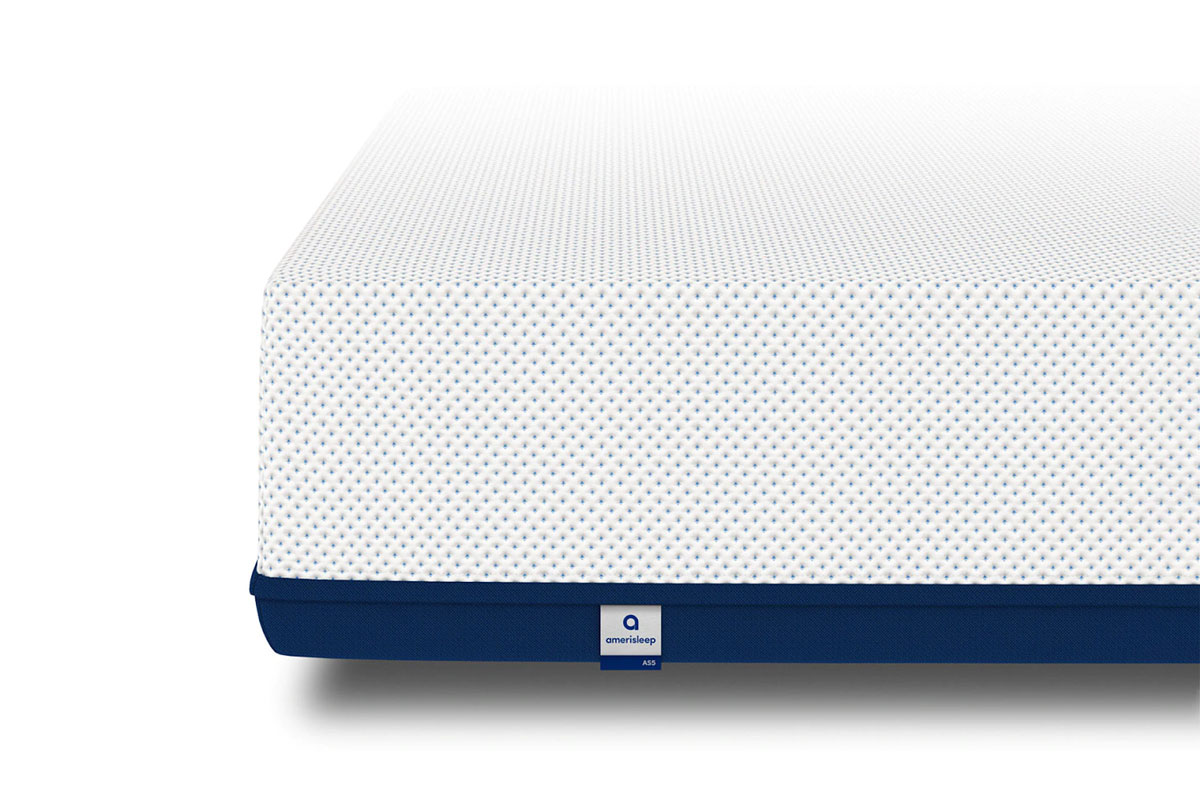 Overview
It is considered the most luxurious of the alternatives proposed by premium company Amerisleep in the field of mattresses. 14'' tall, it combines a pressure-relieving foam with the support Active Flex offers so that it suits perfectly to every sleeper.
Price Range: $1300 – $2660
Mattress Type: Bio-Pur® memory foam
Firmness: Soft or Firm
Warranty: 20 years
Pros and Cons
+ HIVE® transition layer to keep your body in perfect alignment.
+ Plant-based materials that will keep you cool all night.
– The cost might not be affordable for everyone; however, remember we are talking about a luxurious product.
Description
The AS5 is made of a particular memory foam, Bio-Pur®, which allows air to flow continuously, prevents higher temperatures and heat build-up, and is supportive as well as responsive to the movements of your body.
What Makes It Good
The quality of the materials, most of them eco-friendly or based on plants, such as the Bio-Pur® foam and the oils and gel used on the mattress. The company also tries to minimize the use of non-renewable energy resources and care about your health and the planet's. The mattress is certified CertiPUR-US® and is built without harsh chemicals, so you can enjoy your mattress forever in the comfort of high-quality materials.
Saatva Loom and Leaf – Best for Heavy Sleepers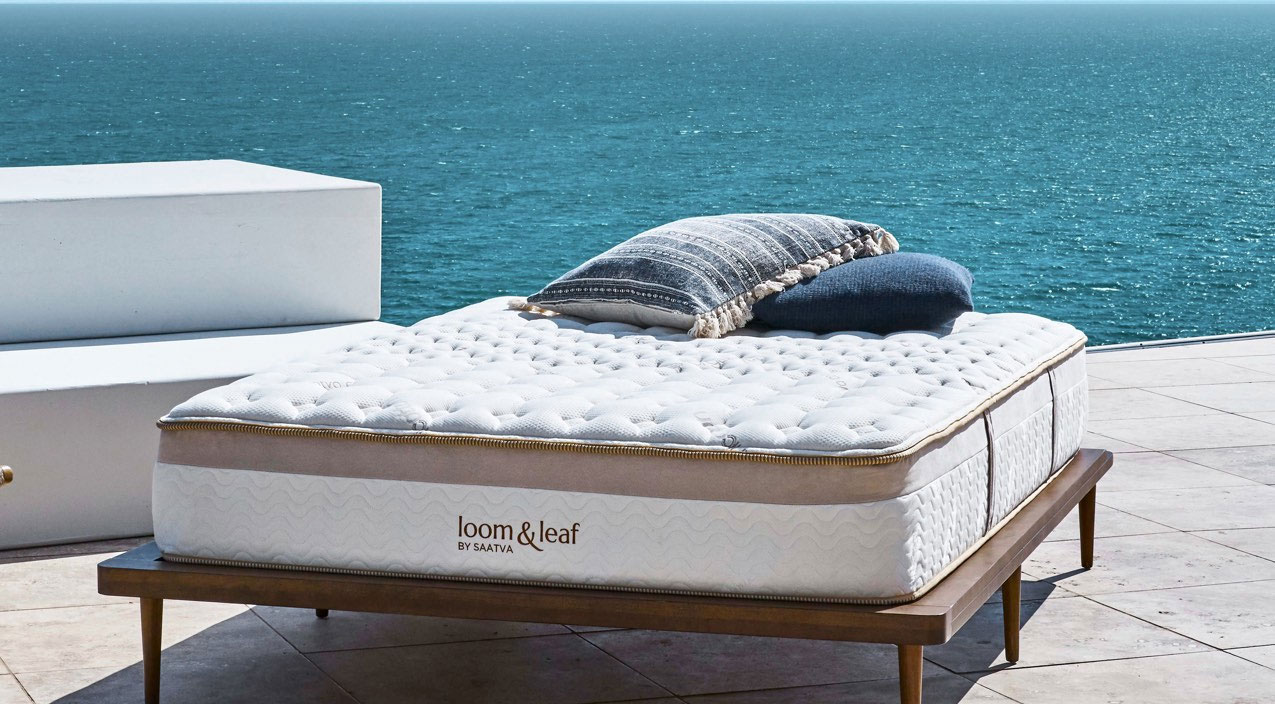 Overview
A variant of the original Saatva mattress, it offers incredible durability and is made with some of the best materials available, many of them eco-sustainable. The price might be higher, but you will be sure to bring home a product that will last for a very long time.
Price Range: $850 – $2180
Mattress Type: memory foam
Firmness: 5 – 7 (relax firm), 8 (firm)
Warranty: 15 years
Pros and Cons
+ Patented spinal support technology to say goodbye to back and joint pain.
+ Approved by the Congress of Chiropractic State Associations.
– You might need some time to adjust to this type of all foam mattress.
Description
It provides exceptional comfort and durability thanks to the high quality of the materials used, many of them eco-friendly (CertiPUR-US® foams, certified organic cotton, recycled steel coils), and the way they are assembled. Durability is given by the support coils, while comfort is provided by the foam layers. The Saatva Classic is probably the best mattress thickness for a platform bed nowadays.
What Makes It Good
The breathability of the product is guaranteed by the dual-coil system, which provides better airflow, and by the hypoallergenic cotton treated with an exclusive antimicrobial, Guardin®.
Vaya Hybrid – Best Low Budget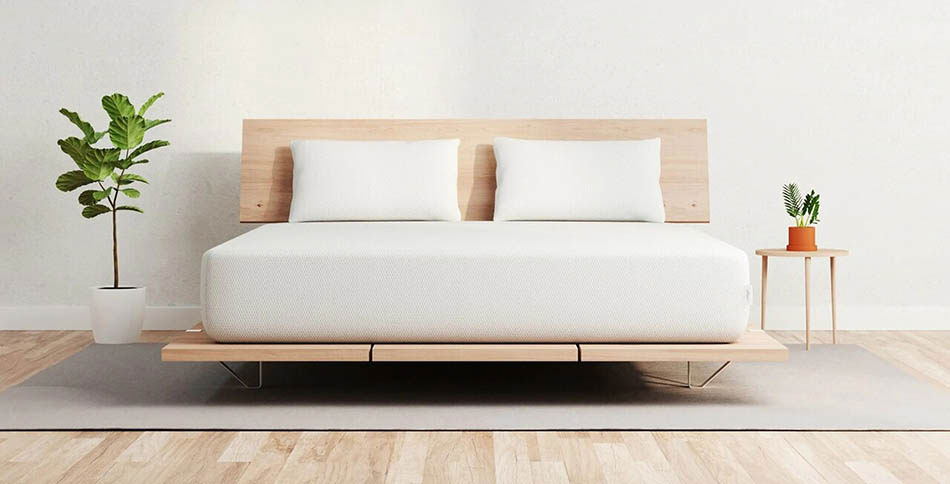 Overview
12'' layers of pure comfort, represented by three layers of certified Vaya comfort by CertiPUR-USⓇ. It proves that the materials used to manufacture this product are up to very high standards and totally free from harmful chemicals and substances that will deteriorate your health instead of improving it.
Price Range: $750 – $1200
Mattress Type: hybrid
Firmness: 6 (medium firm)
Warranty: 10 years
Pros and Cons
+ Long lasting mattress thanks to the pocketed, supportive coils featured on its base.
+ Very advantageous price, one of the lowest on the market while still maintaining top features that make the Vanya Hybrid a high quality mattress.
– Only 10 years of warranty. Compared to the 15, 20 years or even lifetime warranty given by other companies, Vanya falls short in such regard.
Description
It is made of three layers that work in conjunction with a cooling cover to give you all the comfort and stability needed. A first layer aimed at relieving pressure and immediately responding to your body's movements, a second made og bouncy coils to support your spin and align it, and a base that will make your mattress last forever.
What Makes It Good
Perfect firmness, as it combines a soft touch to more firm support in order for it to be just perfect for every type of body and sleeper.
Things to Consider When Purchasing the Best Mattress That Won't Sag
Remember that trial is fundamental, as, in the end, the one who will have to be sleeping years on a mattress is you. Apart from reviews and advice, you are the one who has to test and find by themselves if you approve of a certain product. Anyways, here are some of our tips to help you navigate the ocean of mattresses that constantly invade the market.
Mattress Types
There are tons of mattress types, and often the one you choose ends up being a personal decision. However, there are types better than others at providing good, no sag mattresses.
For example, latex is much indicated for the most durable mattress. If the layers are designed well enough, i.e., if they are made with resilient materials, then the latex is able to give you the best comfort while also not wearing out with time.
Hybrid mattresses are also very recommendable: the combination of pocket or traditional springs with modern memory foams and gel layers give the mattress good support as well as providing the customer with a nice texture and feeling of coolness and relief.
Speaking of springs, as mentioned, there are two types of them. The traditional ones are the most popular and widely used worldwide, especially because they are perfect for people on a budget while still giving a decent amount of comfort. However, mattresses like these alone (so not in combination with any type of foam, latex, or gel) may not be enough for maintaining a good quality of sleep throughout the years. With time and use, they might give you some problems, so we don't recommend it if you are specifically looking for mattresses that don't sag.
Mattress Firmness and Sleep Positions
Contrary to what we said about types, a mattress firmness or your sleep position should not affect the way the mattress will behave in the future. We mean that a good, high-quality mattress that doesn't sag should stay like that regardless of the way you sleep or its firmness.
That is because those two elements are purely subjective: you shouldn't be at a disadvantage just because you are a heavy sleeper or you sleep on your stomach. Therefore, you don't have to worry about it: if the mattress is good enough (and we can guarantee, the above-mentioned surely are), then it will hold regardless of the firmness you bought it with or your sleeping habits.
The Right Materials
A high or low quality material makes all the difference when considering a mattress that won't hopefully sag. To make sure the product you are being is of the best quality, or at least decent enough to last more than five years, then a useful tip is to check a manufacturer's website very carefully. If they are legit, one of the first things you'll notice is the labels and certifications of quality displayed on the page introducing the mattress.
You can then look those certificates up online, and you'll have a clear idea of the quality of the mattress you could potentially bring home. If they are important labels, then it is clear the company doesn't joke around its high standards. One of these certifications is the CertiPUR-USⓇ, which is a must have for all mattresses that want to be at the top as it guarantees basic safety and healthy conditions such as the absence of dangerous chemicals in the materials used. There are many others, though, and not all of them may be legit, so keep an eye on scams and dubious companies.
Mattress Foundations
It is very important to check whether the mattress you have chosen is compatible with the foundation you already have. The vast majority of mattresses that don't sag are perfect on the most common and popular foundations, including box springs, platforms, or adjustable bases.
If you don't have the right foundation at home, worry not, as most of the mattresses selling companies also offer the possibilities to buy, alongside your mattress, the optimal foundation as well as pillows or sheets.
Warranty and Sleep Trial
Another key aspect when buying a mattress that won't sag is the warranty, as well as the sleep trial. We all know by now, one of the biggest problems with mattresses is that often they don't stand the test of time well. Because of this, it is fundamental to check whether you have enough time to test your bed or not, as well as the possibility to return it as soon as you see signs of sagging.
About sleep trials, of course, the more, the better. There are some mattresses that offer amazing trials lasting even up to 18 months, even though the average is 100 days. When looking for a new mattress, pay attention to such detail and try to buy the one that offers you more time: you can test by yourself the quality of the product, and it shows the company is not afraid of letting you try it for long periods of time. Which is, of course, a very good sign.
About warranties, numbers vary, even though nowadays many companies go for lifetime ones. That is, without a doubt, perfect; however, be careful: not always sagging is considered a good enough reason to return the product, therefore make sure to check that out on the company's website or directly from the customer support before buying it.
FAQ
Why Is My Mattress Sagging on One Side?
Sagging is the natural result of the material of your mattress being worn out after a long time of use. If it's sagging just on one side, however, the cause could also be found in the materials used for the design of the mattress: some of them are clearly better than others. We advise you to check with your manufacturer and see if the warranty covers this problem.
How Long Should a Mattress Last Before Sagging?
An average number for an average mattress would be from about 7 to 10 years. Of course, the better the materials and design of a mattress, the more it will last, and vice versa. If yours doesn't even last seven years, then you should try to understand the cause: if it's because of the way the mattress is made, then we suggest checking some other manufacturers out.
Can You Fix a Sagging Mattress?
Yes, there are a few possibilities to fix the problem. Among the most common solutions, we have the idea of placing pillows underneath the mattress so that the discomfort won't be much; otherwise, you could try and flip or turn over your mattress and see if that helps with your sleep. However, these suggestions are temporary and won't last much: buying a new mattress that doesn't sag seems to be the best option.
Conclusion
We have seen how hard it is for some mattresses to stand the test of time. In reality, in many cases, it's not even their fault: the foam they are made of, even if it is of the highest quality possible, will eventually present some problems.
However, if the materials used are top notch, such as those used in the best mattresses that won't sag presented above, you surely have the possibility to enjoy even decades of optimal sleep without much to worry about. That is because one of the main reasons for sagging comes from the bad quality of the materials. The list we made above gives you a vast choice when it comes to the best of the best, so you can enjoy long nights of sleeping without having to worry about sag ever again.