Fibromyalgia or fibromyalgia syndrome (FMS) is a disorder that causes widespread pain all over the body and an extreme sense of tiredness. If you are here, you are probably suffering from this condition and are looking for solutions to get a bit of relief. Fibromyalgia is not uncommon, and often those who suffer from it have trouble sleeping, as pain and sensitivity to temperature may lead to lack of restorative sleep, disruptive sleep, or even insomnia.
In a situation like this, it is therefore key to find a way to provide as much relief to your body as possible. One of the answers to such a problem may come precisely from mattresses: a good quality one may end up being the solution you have always looked for. The way they are built and designed to adapt to your body and give it the feeling of softness is perfect if you suffer from FMS. Let's see some of them together.
Best Mattress for Fibromyalgia
The Botanical Bliss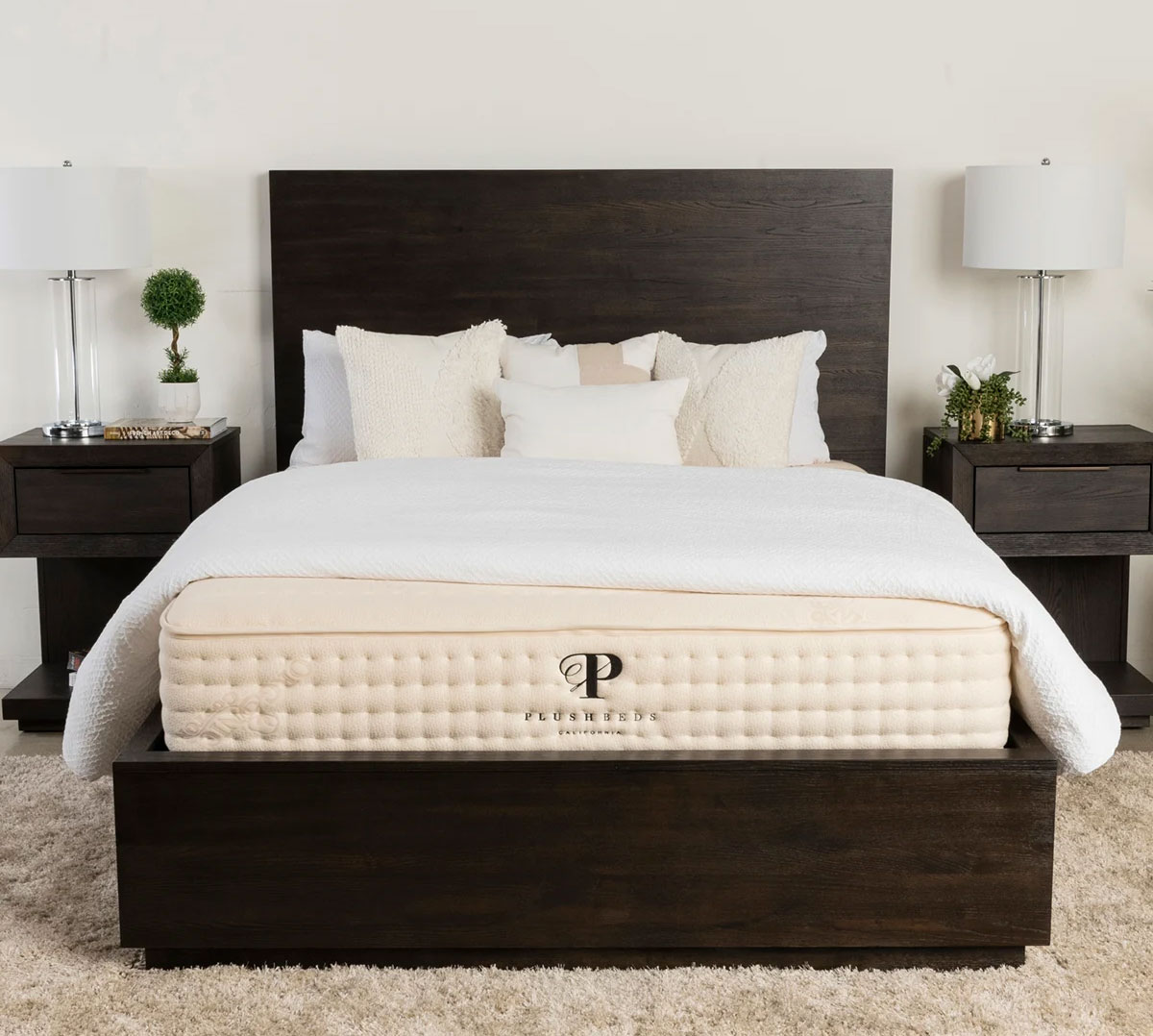 Overview
Handcraft in the USA and made with organic, GOTS certified latex, comfort, and wool, it is recommended by orthopedics and chiropractors as one of the best mattresses for fibromyalgia sufferers, as it provides luxurious support, comfort, and pressure point relief.
Price Range: $1050 – $2050
Mattress Type: hybrid
Firmness: medium or firm
Warranty: 25 years
Pros and Cons
+ Outstanding purity certifications which confirm most of the materials used are eco-friendly, organic and free from unhealthy toxins such as mercury, heavy metals, CFCs, and more.
+ Two thickness and firmness options, alongside nine different sizes, so that you truly choose what is best for you.
+ The possibility of slightly changing firmness by just swapping the top and medium layers of your mattress.
– Only a 100 nights trial. Some companies offer much more.
Description
The Botanical Bliss from Plush Beds is outstanding when it comes to the quality of the materials used, all of them holders of important certificates such as GOLS, GOTS, GreenGuard, and FSC. Not many mattresses are able to match that. Plush Beds have your health as a priority, as not only is it anti-microbial and dust mite resistant, but it is also incredibly cool and makes a terrific job at providing soothing pressure relief. Therefore, this might be the best mattress for chronic pain.
What Makes It Good?
The premium quality materials are definitely our answer, as they are one of the most important elements that will radically change the way you sleep for a healthier, happier awakening.
Helix Midnight Luxe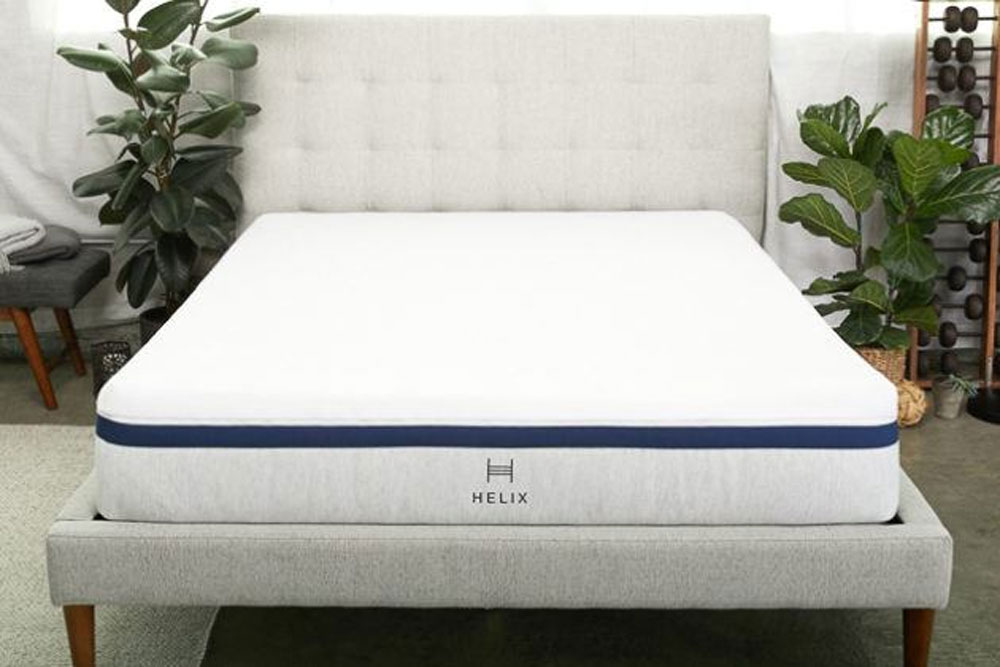 Overview
With its luxury hybrid design, it is no surprise the Midnight Luxe is considered the best mattress for platform bed by many experts. Modern technology and their Luxury Memory Foam make this mattress just perfect to sleep the happiest dreams of all.
Price Range: $895 – $2050
Mattress Type: hybrid
Firmness: 5 – 6 (medium)
Warranty: lifetime warranty
Pros and Cons
+ Luxury Memory Foam is a fantastic technology that works on the traditional memory foam and makes it better.
+ Ultra Breathable Tencel for increased airflow.
– Only a 100-night sleepy trial. We know you can do better!
Description
The mattress is specifically designed to provide you pain relief, and cooling feels thanks to Tencel Airflow Technology. Being among the premium line of Helix mattresses, it contains absolutely no chemicals and features various layers all aimed at providing stability and comfort. Firmness is fixed and ranges from 5 to 6 on a scale, so it is perfect for every category of sleeper and will put an end to discussions with your partner: a medium firmness is an optimal agreement between the two parts, and it will be difficult to find it uncomfortable.
What Makes It Good
It has a medium feel, but it is especially good for side sleepers as it features a luxury memory foam that will work on removing pressure points and keep the pain away from your shoulders and hips. Perfect also for those who move and turn a bit more than average while sleeping, the foam will perfectly adjust to your movements.
Layla Hybrid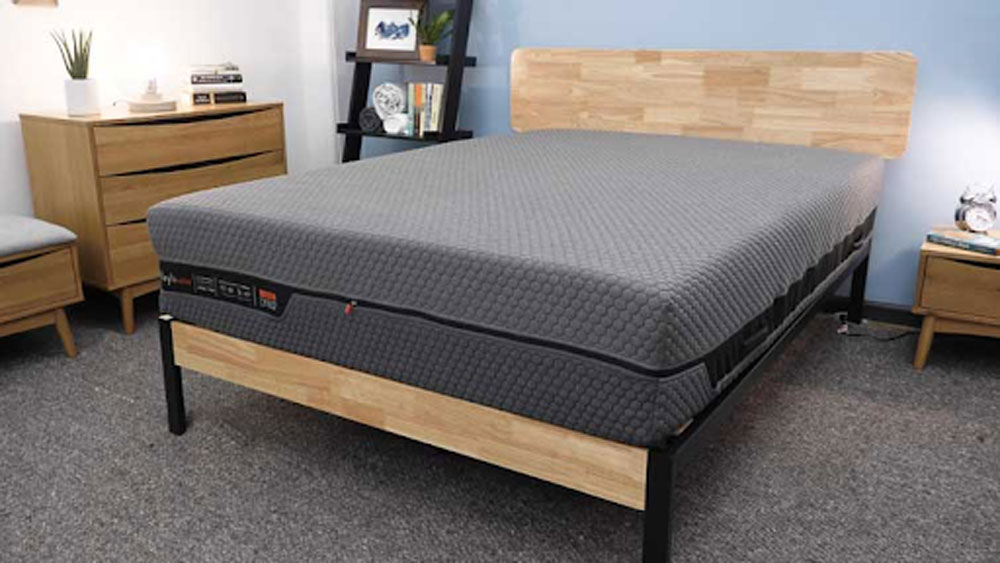 Overview
The Layla Hybrid is one of the many choices the mattress puts at the customer's disposal. It is advertised as an antimicrobial cooling mattress, and it does its job indeed, even winning a couple of important awards in 2020. The positive reviews received indicate how the mattress is perfect for sleepers suffering from FMS.
Price Range: $500 – $1000
Mattress Type: memory foam
Firmness: 3 – 4 (medium – soft)
Warranty: lifetime warranty
Pros and Cons
+ Very good quality-price ratio, with accessible prices for what is offered.
+ Utilises copper gel, naturally an antimicrobial barrier, so that your mattress is always free of bacteria, cool, and fresh.
+ Both a soft and a more firm mattress. You can flip it and choose the side you prefer.
– The foam responds slower compared to other mattresses in the market.
Description
What is quite impressive from such a mattress is the flippable firmness®, a revolutionary option that gives you the possibility to choose whether tonight you prefer a soft or a firm side by simply flipping it over.
What Makes It Good
The two upper and lower sides of the mattress are made differently. Both have the same characteristics and bonuses (Thermo-Gel cooling technology, zipper for easy removal); however, one is dedicated to side sleepers, the other for stomach and back ones.
Casper Wave Hybrid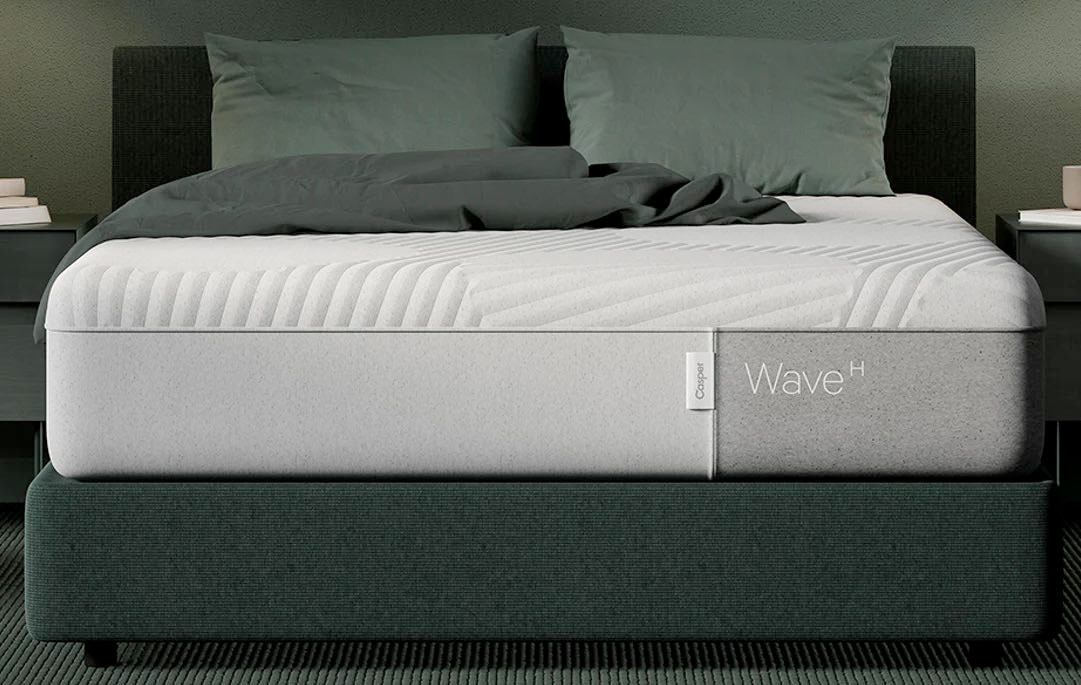 Overview
Excellent at isolating motion and relieving pressure thanks to its hybrid technology, the Casper Wave Hybrid will provide you with the right amount of softness and, at the same time, of support so that fibromyalgia symptoms can get less painful.
Price Range: $1490 – $2990
Mattress Type: hybrid
Firmness: 5 (medium)
Warranty: 10 years
Pros and Cons
+ Premium cooling features that prevent heat from building up and will keep you happy and fresh throughout the entire night.
+ The ergonomic zoning is able to give you on-point targeted support.
– Warranty is a bit low for a mattress of this quality and, particularly, price.
– Speaking of prices, these are some of the highest in the whole market.
Description
The Casper Wave Hybrid focuses on two aspects that, for those suffering FMS, are very important: support and cooling. Support comes from the structure of the mattress, specifically designed to meet your preferences, while cooling is given by the innovative technology able to give more breathability to your mattress by letting the heat escape. It is made of several layers, mostly made of premium foam plus a breathable and stretching, soft cover.
You have a 100-night trial, meaning you can bring the mattress home and use it risk-free for 100 nights. Even if there are companies which offer a longer trial time, this one is pretty standard and should be just right to understand whether the product will help with your fibromyalgia or not.
What Makes It Good
All their features are fantastic, but let's not forget that the Casper Wave Hybrid offers the perfect firmness for every type of body or health condition. A 5, meaning something alongside average, is optimal as it will put an end to all the discussions you and your heavy sleeper partner (or vice versa) had. A medium firmness will make everyone happy.
Brooklyn Aurora Hybrid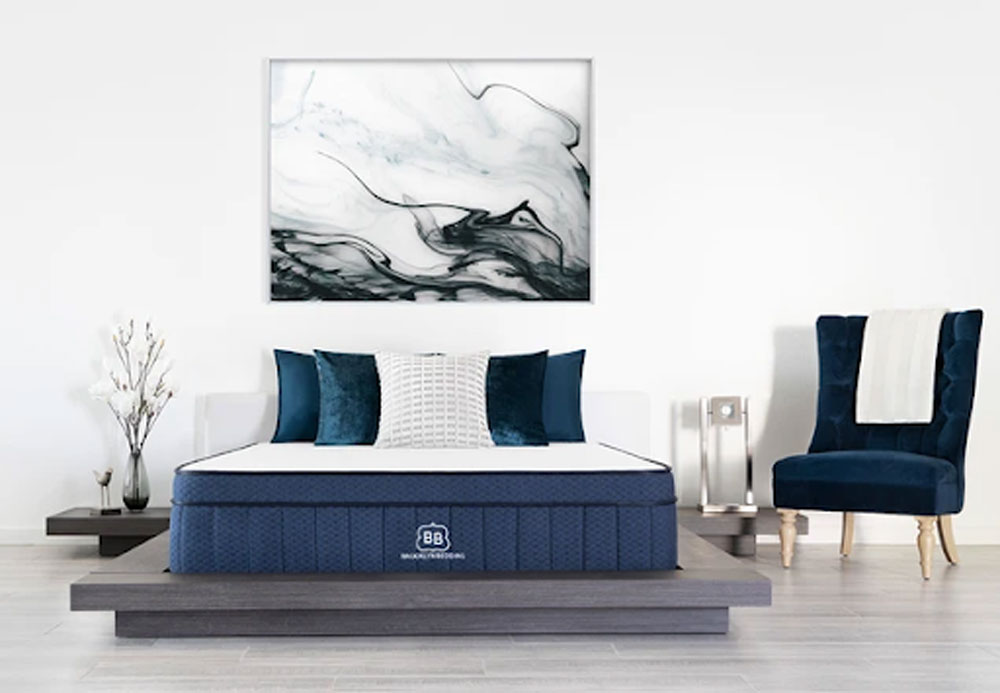 Overview
A luxury hybrid mattress with advanced cooling technology is what you need if you have trouble with your sleep due to fibromyalgia. The layers and covers this mattress is made of will perfectly meet the lineaments of your body to give you the relief and support you need.
Price Range: $800 – $1700
Mattress Type: hybrid
Firmness: 3 (soft), 5 (medium), 7 (firm)
Warranty: 10 years
Pros and Cons
+ Three different firmness you can choose from so that everyone has the possibility to go for the perfect one. If you can't decide, a medium firm should be just fine.
+ Enhanced support on the edges achieved thanks to higher gauge coils for even better comfort.
– 10 years of warranty is good but not that much: other companies offer more.
Description
The mattress is composed of six layers. The CopperFlex™ foam contours your body with targeted pressure point relief, while TitanCool™ keeps skin temperature at a cool 88 degrees, the indicated ideal one. The Ascension X® coils at the base are individually encased and will minimize sleep disturbance by limiting motion alongside the mattress.
Brooklyn Beds offer you a 120-night risk-free trial, so you can test the mattress at home and see by yourself how you feel it without being committed. Also, there are a few other bonuses the manufacturer provides you with. Free shipping always, even on exchanges and returns. The mattress also comes in a practical box to be easily movable from your door to the bedroom.
What Makes It Good
TitanFlex™ and the Swirl Visco-Elastic Memory Foam, the second and third layers, are the ones that will provide you premium comfort, adapting to your body and offering relief to your joints, back, and shoulders.
WinkBed
Overview
A handmade luxury hybrid bed, voted by the New York Times as the best innerspring mattress in the market, the WinkBed will give you decompression support for your spine, optimal sleep temperature, and advanced pressure point relief for your sweetest nights so that your fibromyalgia won't bother you so much.
Price Range: $750 – $1550
Mattress Type: hybrid
Firmness: 3 (soft), 5 – 7 (medium – firm), 9 (firm)
Warranty: lifetime warranty
Pros and Cons
+ A luxury mattress at a non-luxury price, something not common when it comes to specific conditions like fibromyalgia.
+ Four options of firmness to choose from, one especially dedicated to the heavier people, which makes this mattress a perfect one for them.
– Does not support platform beds.
Description
The WinkBed design puts together all the high-quality materials and components for a superior feeling of comfort: the Tencel® cover based on eucalyptus; gel infused foam to give your body the perfect cushioning and support, pain relief and muscle tension easiness; individually wrapped pocketed coils for multiple support zones; extra-edge™ support system so you can sleep at the edge of the bed without discomfort. Moving with fibromyalgia won't mean pain anymore.
What Makes It Good?
The quality of the materials. Many of them are natural, such as the cover based on eucalyptus; all of them are able to give you the best sleep because of their features. For example, the Triple Layer Heat Disperse™ keeps you cool at night by pulling away moisture and heat from your body.
How to Choose the Best Mattress for Fibromyalgia
Good mattresses are produced everywhere by a myriad of manufacturers, so it is impossible to include all the best mattresses for fibromyalgia in a guide that isn't infinite. However, there are some tips and tricks to recognize and buy a top-notch mattress to alleviate the pain and ailments, and we want to share some of them with you.
No Spring Mattresses, Yes Memory Foam, and Latex
To be clearer, you may go for a spring or innerspring mattress only if you are sure there is a thick, comfort-providing layer on top of that. With the ones we listed above, you won't have any problems, as they contain several layers exactly for such a reason. In other cases, however, it might not be like that, and you could find that the mattress actually aggravates your condition instead of offering relief to it.
Those two are probably the best materials a good fibromyalgia mattress should be made of. The reason is their ability to perfectly mold around your body in a way that both supports your body and, at the same time, provides cushioning to the most delicate joints and pressure points. Also, these materials are great and relieving muscle and back pain, as well as supporting your spine correctly.
To be more precise on the topic of mattress types, check out our dedicated paragraph below.
Be Careful About Firmness
Firmness is a difficult topic, as it is highly subjective and very dependable on the sleeping habits and preferences of the single individual. However, when it comes to choosing the best bed for fibromyalgia, we can say that, for the average person, a medium feel would be just right: too soft or too firm might make FMS worse. Remember, though, that in some cases, choosing one over the other is actually advisable: for example, if you are particularly heavy, no matter the condition you suffer from, a firm mattress is almost always a must.
Always Make Sure to Have Enough Time
Testing the mattress with the sleep trial is fundamental, especially for those suffering of FMS or other painful conditions. Nowadays, all mattresses manufacturers offer a trial at home so you can test the product by yourself for several days, generally for 100 nights. We can't stress enough how important this trial is: the best mattress for arthritis and fibromyalgia must feel good and comfortable not only on the first night but on all the nights that come after. Therefore, pay attention to the amount of trial time you have: the longer, the better to understand if that mattress is really for you or not.
All Types of Best Mattresses for Fibromyalgia Sufferers
Hybrid
It's hard to go wrong with a hybrid mattress. Meant to combine a sprung base with layers of memory foam and soft covers, it gives the perfect balance between a supportive low layer and a comfy higher one.
Foam
We already mentioned how good memory foam is when you suffer from a condition like FMS. It aligns perfectly with the curvatures of your body and enables the work of modern and, in some cases, revolutionary technology, which will provide relief to your back, joints, and pressure points for an optimal night of long sleep.
Many of them are also orthopedic and recommended by specialists so that they are even more helpful in relieving pain and cataloged as the best mattresses for fibromyalgia available on the market.
Latex
Another very good alternative to foam, latex, offers a comfortable layer which adapts to any type of body and alleviates back and joints pain. It is also hypoallergenic and often types if we refer to top manufacturers, made of organic and eco-friendly material. The only downside to latex is that it might cost a bit more compared to other types of mattresses.
Airbed
Air beds are an interesting alternative to the most common types of mattresses we talked about. Inflatable, the great advantage of air beds is their price, significantly lower compared to normal mattresses. Of course, in terms of comfort, a mattress will most of the time beat and air bed, but the latter has some applications that can make it a good mattress for fibromyalgia.
It is inflatable, which means you can bring it with you everywhere. If you like traveling and camping but struggle to find comfortable sleep when you are not at home, an air bed could be the perfect solution for you.
Innerspring
As we've mentioned before, spring and innerspring beds are ok, but before buying such type of mattress, you have to make sure it is paired with other layers that will give you the comfort needed; otherwise, instead of being helpful, it might turn your nightmares even darker.
Conclusion
As you have seen, even though your condition is unfortunately hard and painful, there are some good options that will certainly help you in finding a bit of relief, at least at night, when a good rest is most needed.
The market is full of mattresses thought especially for people with diseases like yours, made with the best and healthiest materials and the most modern design. We could list just a few of them, but with our tips, you will surely find many more, often with a very reasonable price. Just remember to never fall for scams: if at first glance it seems legit, a closer look to some websites and companies will change your mind.