When speaking of beds, the choices and options are many, and the huge variety of possibilities might be overwhelming. Box spring beds, platform beds, what is this all about? Where is the difference?
Fear not: we are here to give you all the answers. We'll start with the basics: what do we mean as "bed"? Often, when speaking, we refer to a "bed" as the whole structure that makes up the place where we actually sleep: mattress, sheets, covers, pillows, and of course, the structure on which the mattress lays on. It is precisely on this last aspect that we want to focus on: the structure or base of the bed.
What Is a Platform Bed?
See, there are many variants in which such base might present itself. Probably the most common is the typical box spring, sometimes also called "divan", a wooden base consisting in a frame covered in cloth and containing springs (hence its name). Typically, it is placed on a bed frame made of wood or metal, which in turn is sitting on the floor.
These box springs can be used on every type of bed you can think of: being its foundation, it is perfect for everything you might want to put on. One of the possible options is, precisely, a platform bed. The name explains it all: it consists of a raised horizontal frame, made of wood or other materials, and comes in many different ways and shapes.
It may present itself with or without a headboard, as well as sometimes include a place underneath it, called the underbed storage, in which you can place boxes or even, if possible, another bed. Because of this, platform beds are some of the best options if one of your necessities is to save some space and make the most out of your bedroom without filling it up too much.
If you choose to go for such type of bed foundation, then a whole world opens as you may start wondering what kind of mattress for a platform bed is the recommended. Therefore, here we are with our best picks when it comes to best mattresses for platform beds.
Best Mattresses for Platform Beds
Amerisleep AS3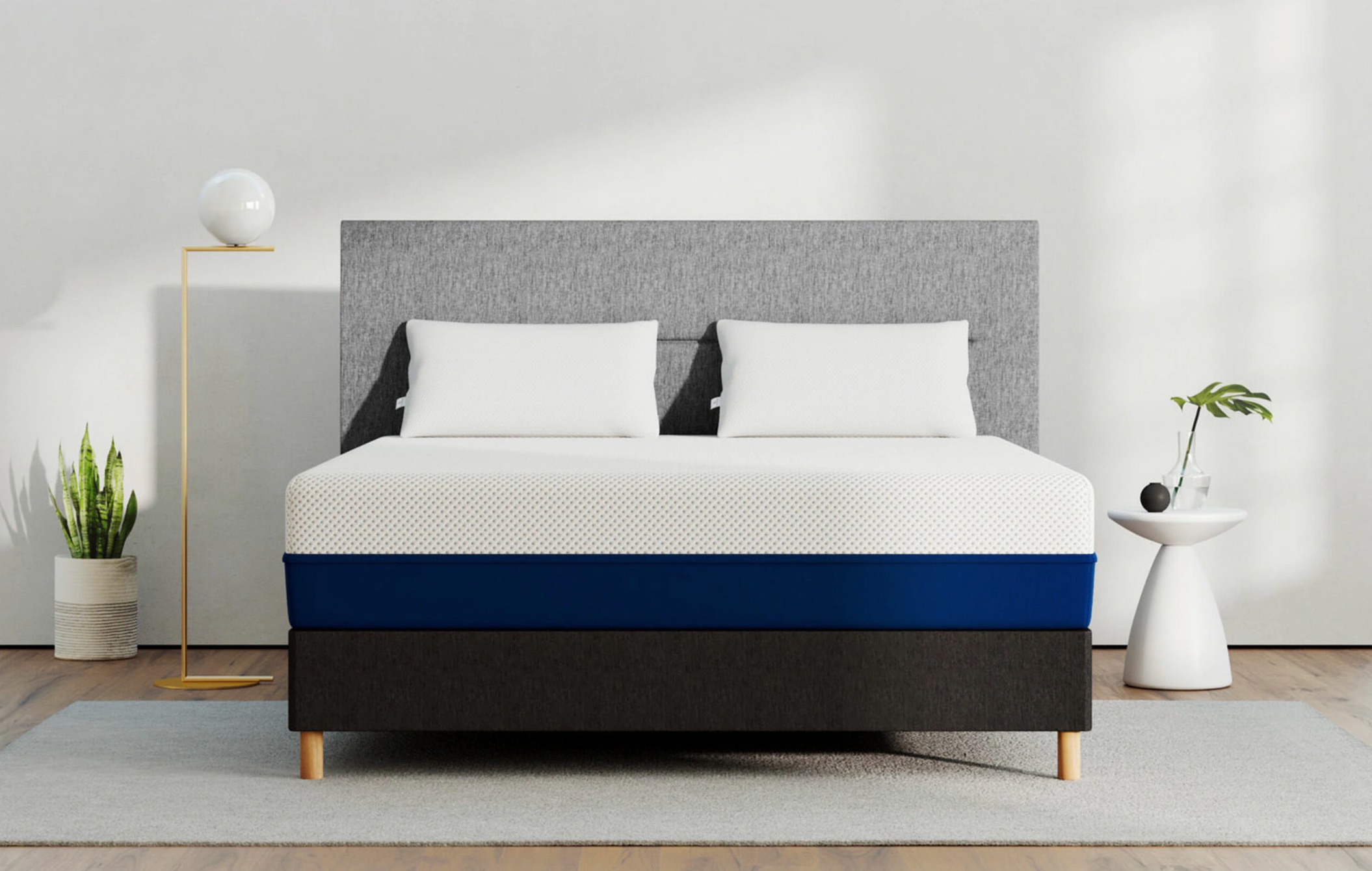 Overview
The AS3 is Amerisleep's best-selling mattress. Loved because of the amount of comfort it gives, as well as the capacity to relieve pain caused by pressure points and bad sleeping positions, it is eco-friendly and very breathable.
Price Range: $800 – $1600
Mattress Type: all Foam / Hybrid (Foam + Coils)
Firmness: 5 – 7 (medium-firm)
Warranty: 20 years
Pros and Cons
+ Targeted pressure relief system and very good, plant-based materials.
+ 100-night, risk-free sleep trial, easy and free returns
– It doesn't have strong edge support.
Description
First of all, it uses a plant-based memory foam known as Bio-Pur®, highly responsive, cooling, and pressure-relieving to give you balanced comfort during the night. Speaking of cooling, the mattress features an open-cell design so that more air is able to escape compared to a traditional foam mattress, making it way more breathable and also preventing heat build-up.
What Makes It Good
Bio-Pur® is totally eco-friendly, using plant-based oils and minimizing the use of non-renewable resources so that the product you are buying is better not only for you and your comfort but for the planet as well. Last but not least, CertiPUR-US® assures us that the mattress is resistant to dust mites, mold, and more, apart from being made without harsh and dangerous chemicals.
Nectar Memory Foam Mattress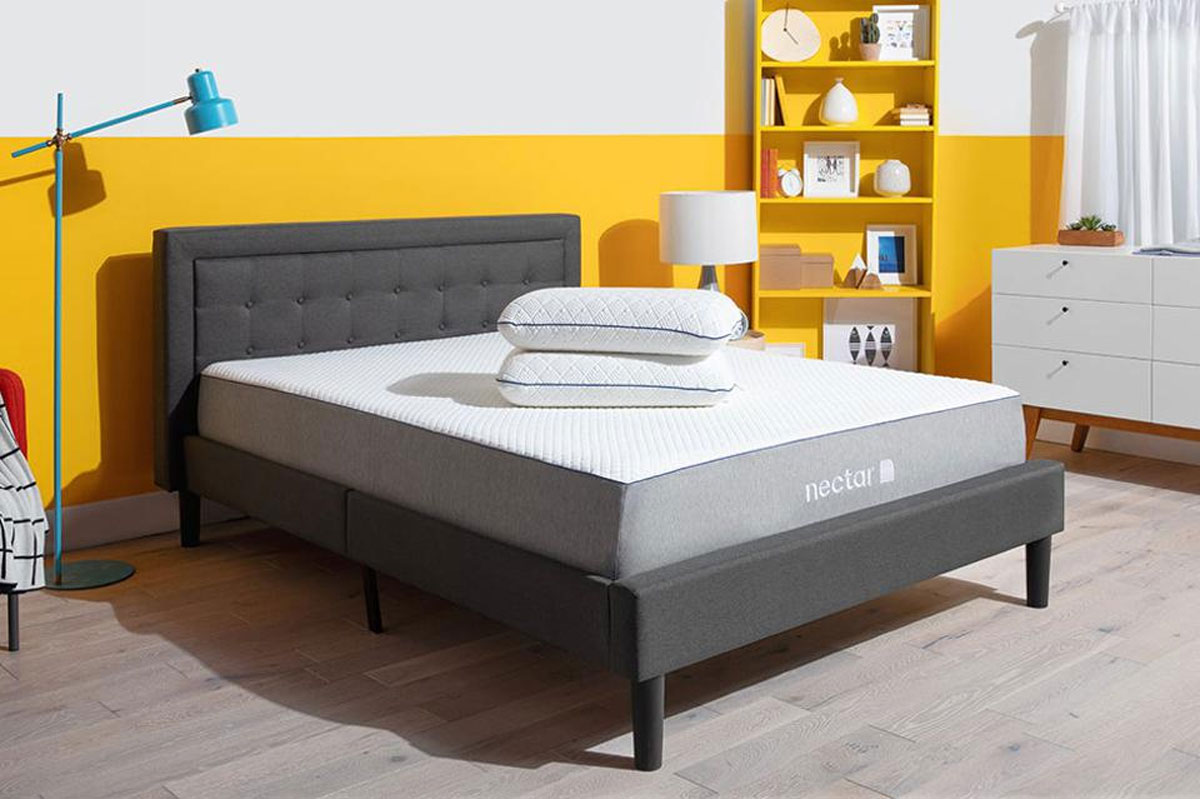 Overview
With its five layers of comfort, Nectar offers a mattress for platform bed, which keeps you cool at night, minimizes motion transfer, and help reduce pain, soreness, and other types of discomfort.
Price Range: $500 – $1400
Mattress Type: all Foam
Firmness: 6.5 (medium-firm)
Warranty: Forever Warranty™
Pros and Cons
+ A 100% risk-free 365-night trial at home, meaning that you can try it for a whole year and then eventually return it.
+ Allows the spine to be better aligned on any body type thanks to the adaptive memory foam.
– Because it has a medium firm, it might not be the best for heavy sleepers.
Description
The Nectar is made of five layers. The first is the one that ensures the mattress stays firm and steady on the bed frame. The base layer stabilizes the memory foam, reinforcing support.
The third is an adaptive response transition layer, with the aim of providing the perfect support for your back, and the gel memory foam makes sure your weight is equally distributed on the mattress.
What Makes It Good
The mattress minimizes motion transfer so that each area of it is independent from the other (so that when you get up, you don't wake your partner!), which is simply great.
Alexander Signature Hybrid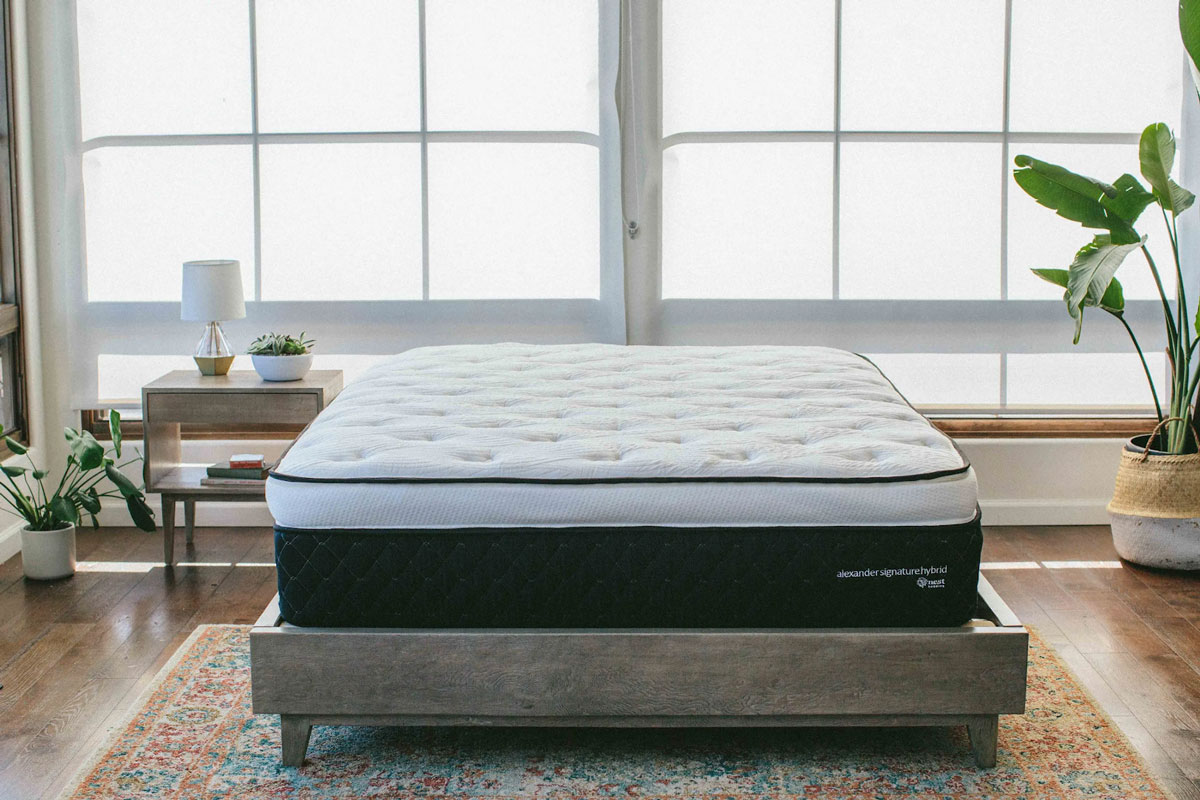 Overview
The Alexander Signature Hybrid is among Nest Bedding's best sellers, making it a luxurious, 100% made in the USA product and probably the best mattress for platform bed with slats. And it has a very reasonable price for what it offers indeed.
Price Range: $950 – $1500
Mattress Type: hybrid
Firmness: 3 (soft), 5 (medium) and 7 (firm)
Warranty: limited lifetime warranty
Pros and Cons
+ 3 different types of a feel for all kinds of sleepers.
+ 100-night trial to test the mattress without ever committing.
– It is quite a heavy model, so you need to be extra careful in positioning it and moving it around the room.
Description
The Alexander Signature Hybrid is made by using a combination of high-quality foams and coils wrapped individually. In particular, the TitanChil Endurance Foam® is the one that will make sleeping so comfortable, thanks to its hyper-elastic design that will respond immediately to all your movements.
What Makes It Good
CertiPUR-US® certified, guaranteeing to be free from VOCs, ozone depleters, heavy metals, formaldehyde, and more. Also, they design and make their products with a clear idea of sustainability in mind: for example, as your platform mattress starts to wear down, you can change from one feel to another simply by unzipping the mattress and placing a new layer.
Saatva Classic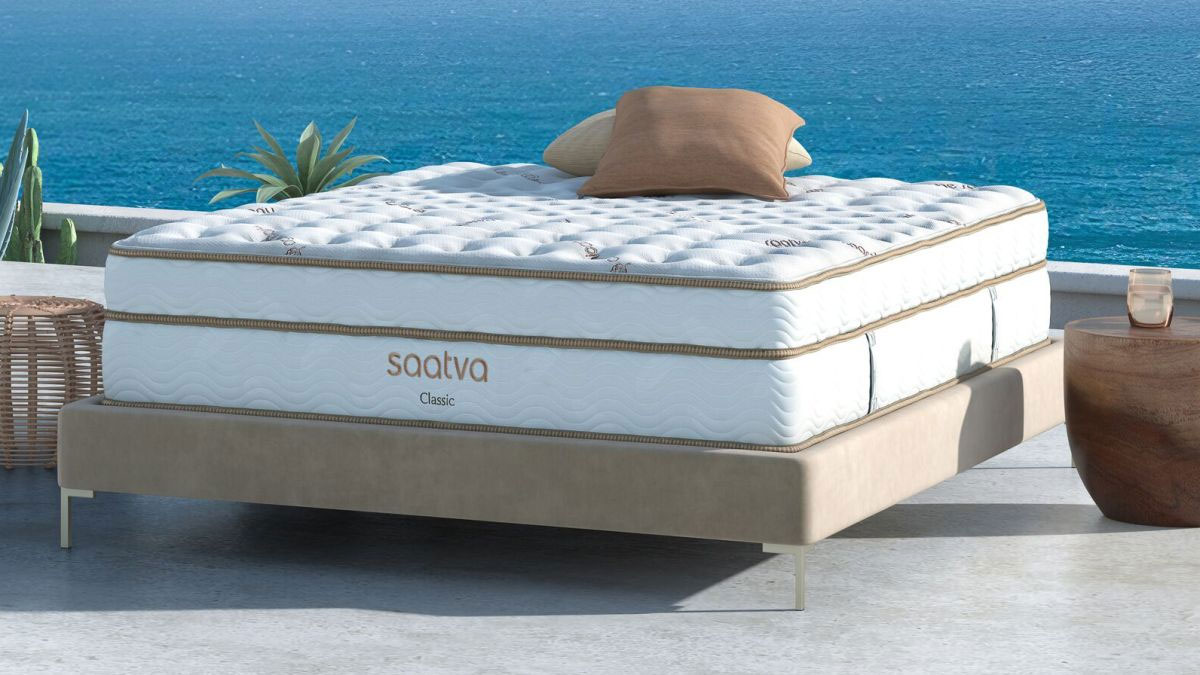 Overview
The classic flagship hybrid innerspring mattress from Saatva, it is the perfect choice for platform beds. They specifically offer an array of bed bases that work wonders with the Saatva Classic and recommend the platform one if you are looking for a low-profile bed with a modern look and that does not require any foundation.
Price Range: $800 – $1800
Mattress Type: hybrid
Firmness: 3 (soft), 5 – 7 (medium) and 8 (firm)
Warranty: 15 years
Pros and Cons
+ Patented spinal support technology to say goodbye to back and joint pain.
+ Approved by the Congress of Chiropractic State Associations.
– Being hybrid, it is not as "hugging" as with mattresses made completely of foam.
Description
It provides exceptional comfort and durability thanks to the high quality of the materials used, many of them eco-friendly (CertiPUR-US® foams, certified organic cotton, recycled steel coils), and the way they are assembled. Durability is given by the support coils, while comfort is provided by the foam layers. The Saatva Classic is probably the best mattress thickness for a platform bed nowadays.
What Makes It Good
The breathability of the product is guaranteed by the dual-coil system, which provides better airflow, and by the hypoallergenic cotton treated with an exclusive antimicrobial, Guardin®.
Layla Memory Foam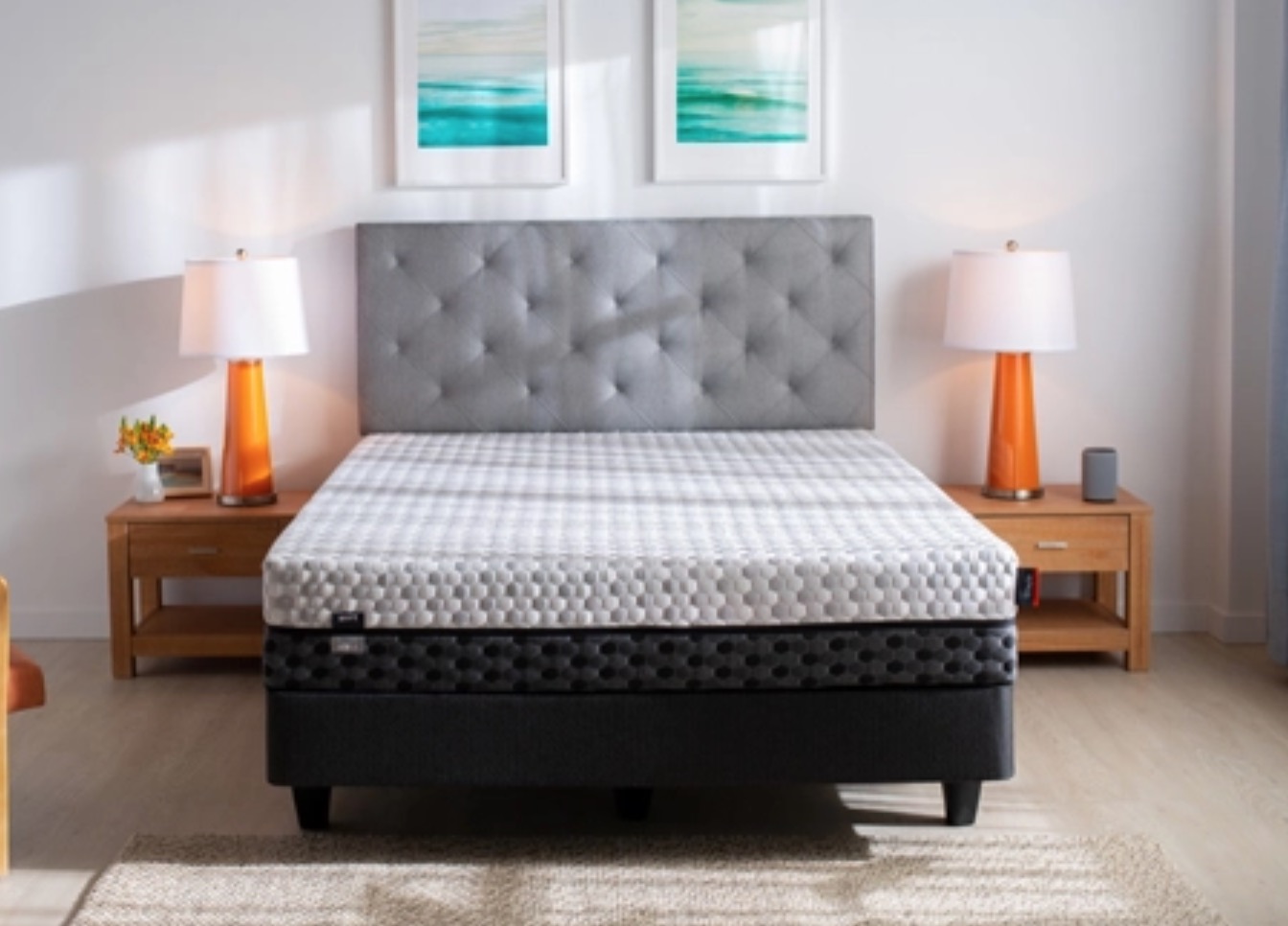 Overview
Among the best mattresses for platform beds, the Layla Memory Foam mattress is the optimal choice when it comes to this brand. It is advertised as an antimicrobial cooling mattress, and it does its job indeed, even winning a couple of important awards in 2020.
Price Range: $500 – $1000
Mattress Type: memory foam
Firmness: 3 – 4 (medium – soft)
Warranty: lifetime warranty
Pros and Cons
+ Very good quality-price ratio, with accessible prices for what is offered.
+ Utilises copper gel, naturally an antimicrobial barrier, so that your mattress is always free of bacteria, cool, and fresh.
+ Both a soft and a more firm mattress. You can flip it and choose the side you prefer.
– The foam responds slower compared to other mattresses in the market.
Description
What is quite impressive from such a mattress is the flippable firmness®, a revolutionary option that gives you the possibility to choose whether tonight you prefer a soft or a firm side by simply flipping it over.
What Makes It Good
The two upper and lower sides of the mattress are made differently. Both have the same characteristics and bonuses (Thermo-Gel cooling technology, zipper for easy removal); however, one is dedicated to side sleepers, the other for stomach and back ones.
Idle Hybrid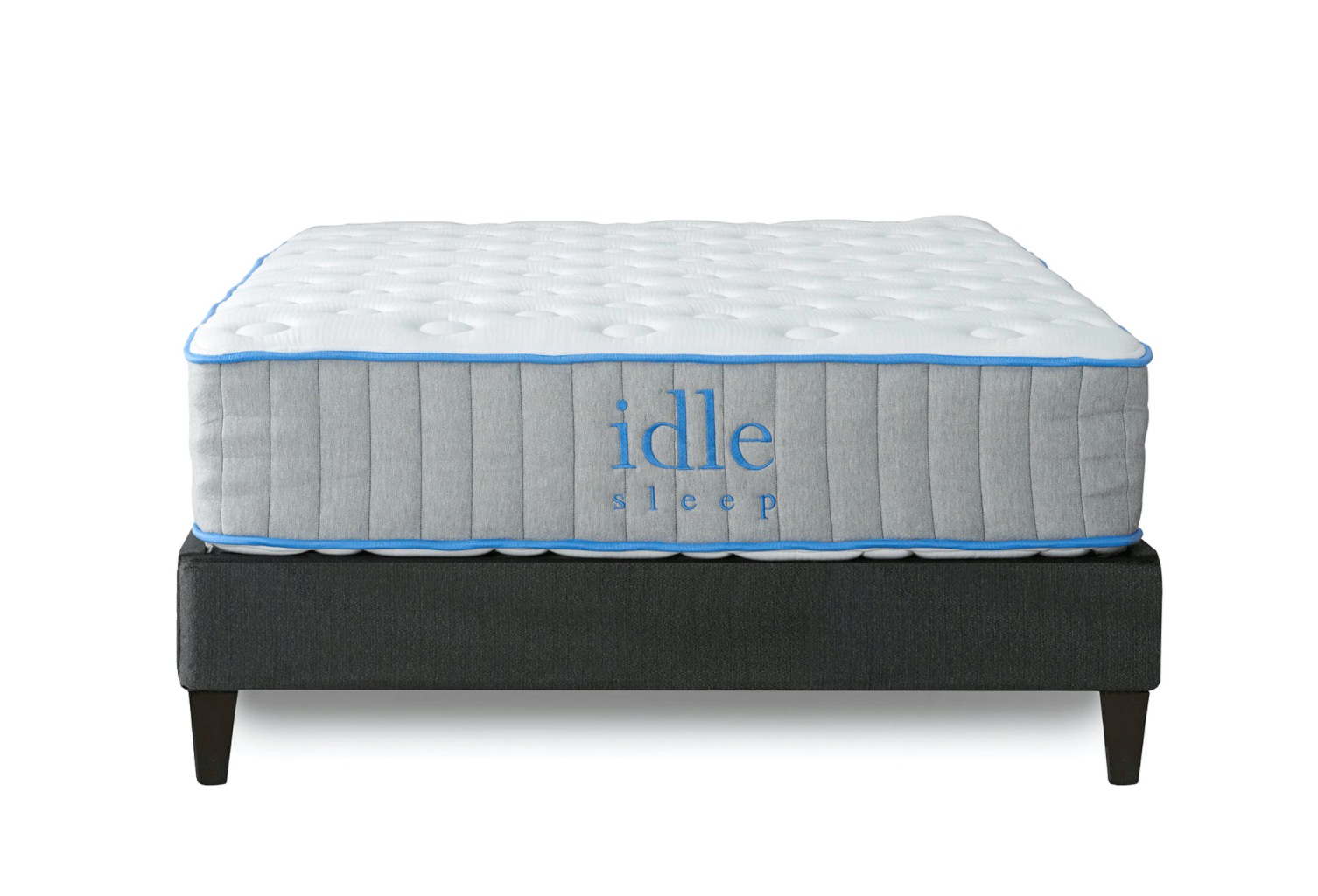 Overview
They claim to be "America's Best Value Hybrid Mattress". Well, they certainly offer some interesting perks, such as their Buoyancy Foam, which offers 400% more support than the regular one. It also keeps you cooler since there are no visco elastic chemicals in it, certified by CertiPUR-US®.
Price Range: $700 – $1300
Mattress Type: hybrid
Firmness: 5 (medium), 9 (firm)
Warranty: lifetime warranty
Pros and Cons
+ Finally, a two-sided mattress so that when one wears out, there is always the other side.
+ Incredible 18-month trial, something never quite seen before. Truly risk-free.
+ Easy to unbox.
Description
When it comes to some key aspects, there truly is no other mattress like the Idle Hybrid. We already mentioned their Buoyancy Foam, which reacts faster than memory foam and thus offers better support and pressure relief. The mattress gets support and is able to reduce motion transfer thanks to the 1000 smart support coils that substitute the traditional springs.
What Makes It Good?
The fact that you can flip it and use the other side is perfect and shows how much they care about delivering to their customers a good product. Once one side starts to wear off, don't buy a new mattress: the new one is right where the old one is.
Helix Midnight Luxe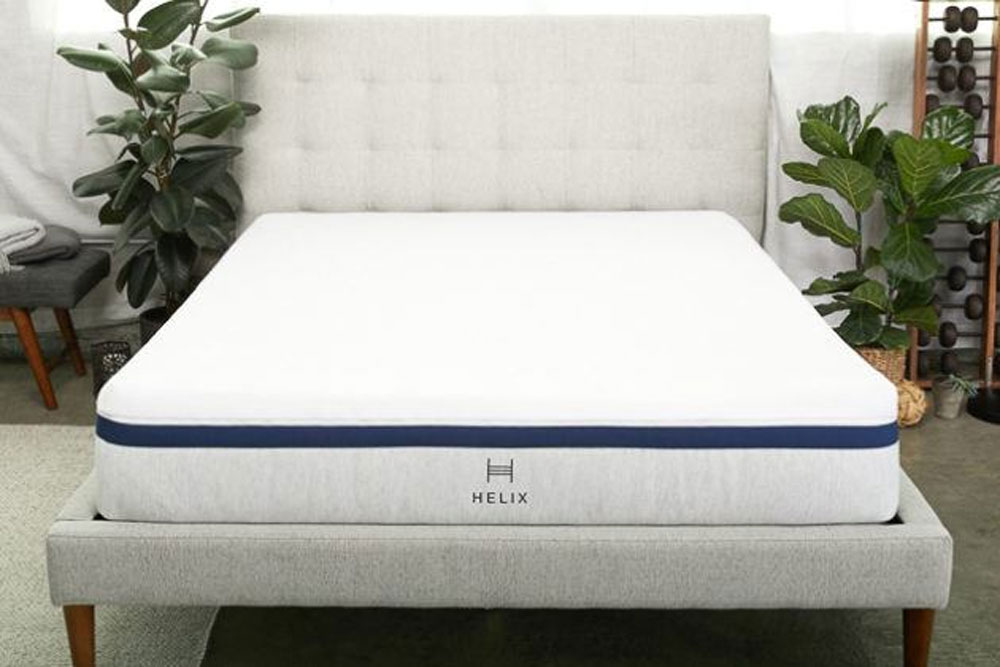 Overview
With its luxury hybrid design, it is no surprise the Midnight Luxe is considered the best mattress for platform bed by many experts. Modern technology and their Luxury Memory Foam make this mattress just perfect to sleep the happiest dreams of all.
Price Range: $895 – $2050
Mattress Type: hybrid
Firmness: 5 – 6 (medium)
Warranty: lifetime warranty
Pros and Cons
+ Luxury Memory Foam is a fantastic technology that works on the traditional memory foam and makes it better.
+ Ultra Breathable Tencel for increased airflow.
– Only a 100-night sleepy trial. We know you can do better!
Description
The mattress is specifically designed to provide you pain relief, and cooling feels thanks to Tencel Airflow Technology. Being among the premium line of Helix mattresses, it contains absolutely no chemicals and features various layers all aimed at providing stability and comfort. Firmness is fixed and ranges from 5 to 6 on a scale.
What Makes It Good
It has a medium feel, but it is especially good for side sleepers as it features a luxury memory foam that will work on removing pressure points and keep the pain away from your shoulders and hips. Perfect also for those who move and turn a bit more than average while sleeping.
Nolah Signature 12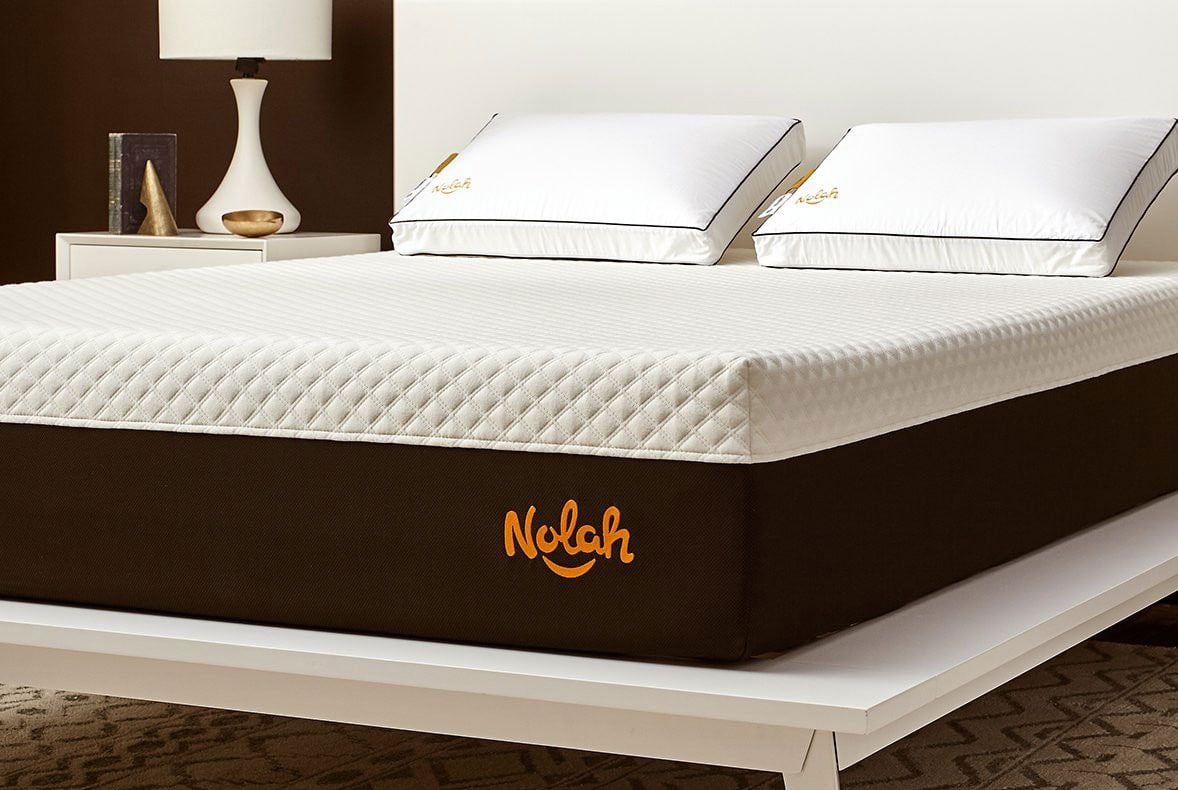 Overview
It is hard to identify the best mattress for platform beds, but the Nolah 12'', their newest upgrade from the Original 10'', comes very close. A flippable firmness so you can choose between soft or firm in a next-gen Nolah AirFoam™, it can adapt to any flat bed surface and foundation.
Price Range: $850 – $1500
Mattress Type: AirFoam™
Firmness: Soft or Firm
Warranty: lifetime warranty
Pros and Cons
+ Choose the firmness you feel most comfortable with.
+ 12'' tall and with a reinforced base, the mattress will last a very long time.
– You have to pay $170 dollars for the 120-night trial period, even though all other features remain.
Description
The Nolah Signature 12'', certified by CertiPUR-USⓇ is made of three main elements. A soft, as well as firm, side made of foam specifically designed to keep you cool during the night, relieve pressure from your joints and back, and perfectly contour your body; a deep, supportive, and high-resilient foam, which is durable and will keep you firm; finally, a reinforced core foundation made of breathable base to reinforce the support given to your body as well as to the superior layers.
What Makes It Good
The foam with which it is made, the Nolah AirFoam™, is of excellent quality. Keeps you cool, is breathable, gives you pressure and pain relief, and will be the most comfortable thing you have slept on ever. Might seem similar to more traditional memory foam, but it is advertised by the manufacturer as an upgrade since it removes that sense of being "trapped" or "stuck" in the mattress.
Different Types of Mattresses for Platform Beds
As you can see from our list above, mattresses can come in different materials, firmness, and sizes. The best type of mattress for a platform bed is very subjective and is usually a combination of these three factors.
Materials. What we suggest is to go for a hybrid choice, combining together the softness of the memory foam with the stability provided by the inner coils.
Firmness. Choose your preferred level of firmness according to your sleeping habits and your resting positions.
Sizes. Even though the twin platform mattress is typically the cheapest one, the king mattress for a platform bed is the one we would go for. Of course, it depends on the space you have and your existing bed foundation, but a king-size is just so good and comfortable for both a single individual or a couple.
FAQ
What Type of Mattress Is Best for a Platform Bed?
The answer to this question is very hard, as much depends on your preferences. When you ask yourself what is the best mattress for a platform bed, keep in mind materials, firmness and size. Ideally, the best mattress for a platform bed is a hybrid, medium-firm, and of king-size.
Can You Put a Regular Mattress on a Platform Base?
Yes, technically you could, but do you really want to? A high quality, the premium mattress will give you many more advantages when put on a platform base and not even at an incredibly high price. If you decide to go ahead and buy one, we guarantee you will not regret it.
Conclusion
Even though it might appear difficult sometimes to find the perfect platform bed and mattress set, in the end, you can see how there are a lot of solutions for your comfort, even using a platform as your bed base. High-quality materials, coolness technologies, good firmness for your sleeping habits, comfort, and softness without sacrificing fundamental support to your joints and spine are the features you must look for in a mattress. You'll surely find the perfect one.