Pregnant women do not enjoy only bright days but also the periods when they cannot tolerate back pain, toxicoses, and other ailments that make their lives a disaster. The same concerns their troubled sleeping when a woman cannot find a good position to rest. As a result, a woman experiences irritation, body cramps, among others. To minimize such uncomfortable and bothering feelings, it is highly recommended to buy the best mattresses for pregnancy. They are designated with care, a full understanding of women's feelings, and their sensitivities.
Why choose them? Normally, pregnant women are recommended to stick to a side sleeping. Yet, it is not always as comfortable as when a woman is not pregnant. It can be linked to sleep disturbances that, in turn, may occasionally affect labor and delivery. Therefore, the best mattress, thanks to its firmness and regulated temperature, may alleviate all pains and provide the utmost dreamy sleep.
If you are pregnant, have a pregnant friend, or think about having this best time of your life, feel free to check the review. Only the best pregnancy mattresses that stand for high quality and, on some occasions, affordability. It will feature their prices, pros and cons, overall descriptions. Also, there are the category of sleepers whom they fit the best, as well as firmness options.
Best Mattresses for Pregnant Women
There are 6 mattresses reviewed based on customers' feedback, overall pregnant women's experiences, as well as manufacturers' labels.
#1 Layla Mattress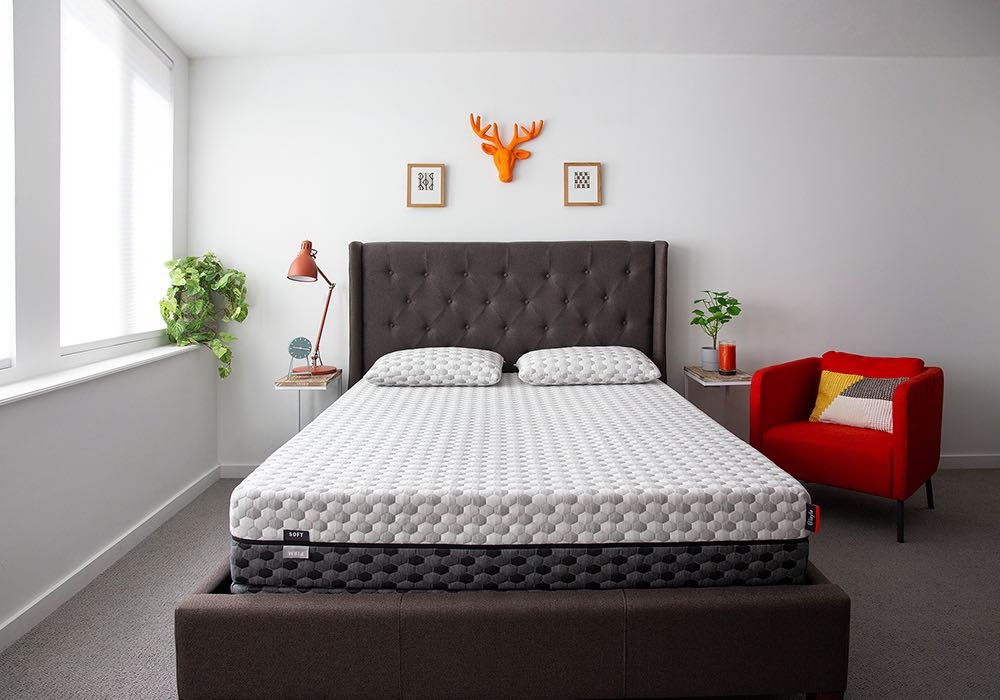 Overview
Let's start with Layla Mattress. It is commonly featured with most rankings. This is one of the most in-demand mattresses for pregnant women who seek extreme comfort. First off, this product offers doubled firmness, so you can switch the sides during sleep lots of times without experiencing discomfort. A product is linked to great pressure relief, regulated temperature as well as stunning motion transfer. As for the materials of a mattress, you can find polyester, viscose, lycra, and ThermoGel.
Beyond this, the product is linked to reducing hip/back pain, night sweats, and hot flashes. It is worth saying that pregnancy can greatly make one gain lots of weight, so this product is suitable for those ladies who are over 130 pounds.
Finally, what women love the most is a lifetime warranty and a two-week check-up of the product before making a return.
Found prices: $499-$999
Mattress Type: memory foam
Firmness: medium-soft and firm
Warranty: lifetime warranty
Pros
Two firmness options available;
Memory foam alleviates back pain and pressure;
Good for many weights;
Lifetime warranty;
Cons
Overall Description
This mattress is perfect for small, medium, and high-weight pregnant ladies who seek comfort. It has two firmness options. It perfectly copes with regulating temperature and motion transfer.
What Makes It Good?
ThermoGel cooling agent, flippable design, memory foam that provides pleasant feelings and alleviates back or hip pain. The price range is pretty affordable. This mattress for pregnant stomach sleepers is also amazing if you share it with your partner. Therefore, a pregnant woman can enjoy a side/stomach sleep, while her partner may dive into dreams by laying how they want to.
#2 Nolah Signature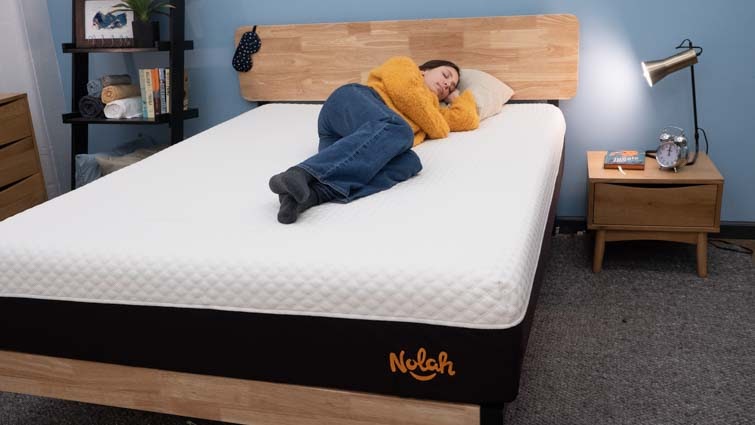 Overview
The next mattress that also comes with two firmness options is Nolah. It is perfect for side sleeping and allows pregnant women to "travel" across the bed without experiencing discomfort. It is easy to flip and has sides that cope with pressure relief and provide extra cushioning.
When it comes to the materials involved, the mattress is designated with organic cotton. Cotton helps to avert the night sweats moisture as well as circulate airflow. Then, there is polyfoam or most well-known as AirForm, which works by blending conforms and reducing pressure.
The medium-soft side of the mattress is powered with AirFoam that allows minimizing extra pressure on pregnant women's hips/shoulders. It benefits those who only sleep on the side. Even though the medium softness provides pleasant feelings, there is also a kind of a bouncing mechanism that helps you avoid sinking in.
It comes with a limited lifetime warranty, or you can try out a 30-days trial of the mattress and then return it.
Found prices: $849 – $1,499
Mattress Type: foam
Firmness: medium-soft and firm
Warranty: limited lifetime warranty
Pros
Perfect for ample pressure relief;
Two firmness options;
Breathable cover;
Limited lifetime warranty;
Cons
Some poor off-gassing, however, only in the beginning.
Overall Description
This product is perfect for side sleepers who want to feel softness but without sinking in experiences. A mattress has AirFoam and bouncing mechanisms. Then, there is added cushioning and a breathable cotton pregnancy mattress topper.
What Makes It Good?
The best thing about this mattress is its suitability for women who usually move a lot during the night. Two firmness options can provide you with extremely dreamy nights by regulating the temperature, averting the moistures caused by hot flashes or night sweats, and minimizing the shoulder and hip pain.
#3 Casper Wave Hybrid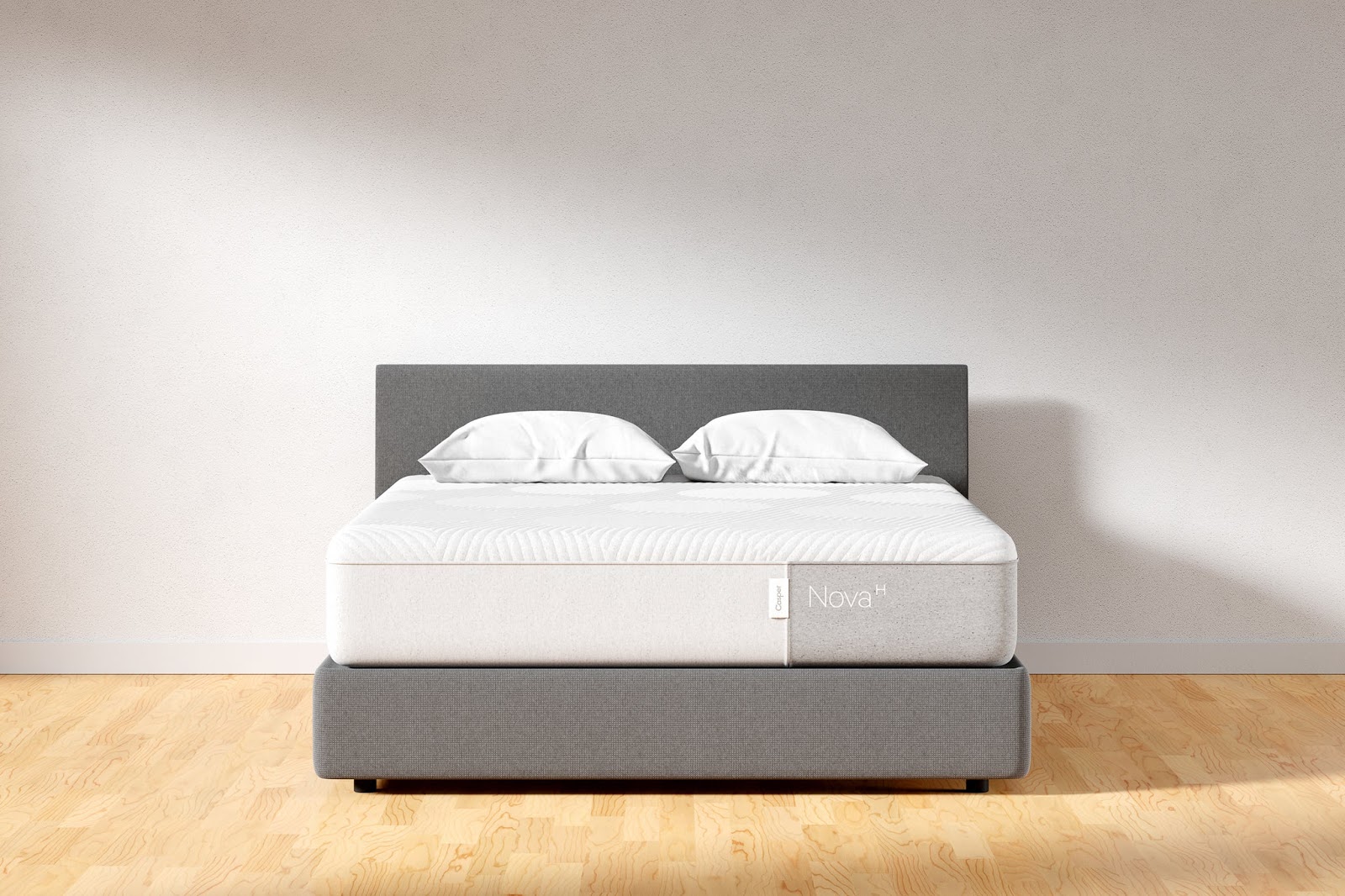 Overview
When it comes to the most expensive pregnancy mattress, but that may provide one with extra features, Casper Wave Hybrid is definitely one of them. First off, it is known for its many patented components. For instance, it is powered with AirScape cooling gel that won't make you sweat during the nights. The brand calls this mattress the most cooling one yet. Secondly, there is a Zoned Support Max that guards the safety of your hips and back. No pain after waking up.
As for basics, this product is linked to temperature regulation, pressure relief, and, of course, motion isolation which are a must for all pregnant women.
Speaking of its materials, there are cotton, polyester, rayon, and spandex. The mattress features many layers that add a feeling of extra cushions. They also help to evenly distribute the woman's weight and minimize the harm to her shoulders if she is a side sleeper. A 10-year warranty is available.
Found prices: $1,356 – $2,631
Mattress Type: hybrid
Firmness: medium
Warranty: 10-year warranty
Pros
Innovative cooling agent;
A patented gel for hips pain relief;
Good for high weights;
10-year warranty;
Cons
It is not linked to cheapness.
Overall Description
The coolest mattress existing. Hybrid-type that involves many patented features, including AirScape making your sleep as cool and comfortable as possible and Zoned Support Max for guarding the safety of your hips and back. The mattress is not very cheap; however, the quality and perks are worth it all.
What Makes It Good?
Extreme care for pregnant women who like to sleep on sides. Perfect for those who sweat a lot during the night. Finally, it is good for those women who want to minimize hip and back pain.
#4 The WinkBed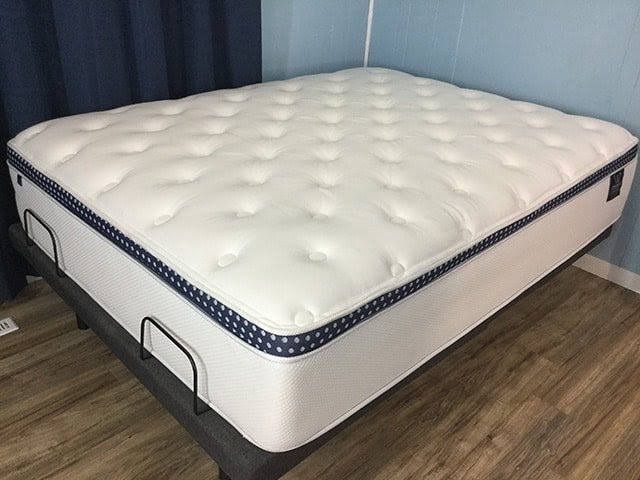 Overview
This mattress saves lots of women from poor sleep and the linked-to sleep disturbances. It cools those who have frequent night sweats and hot flashes, as well as offers amazing comfort to ladies who need ample support. Many clients recommend it due to a high off-gassing, so no smells.
The mattress is now available in three firmnesses, making it good for various types of sleepers. As for the materials involved, there is eucalyptus fiber for averting the moisture, gel-infused polyfoam, and hypersoft foam. They cater to relieving pressure, minimizing motion transfer, as well as the heat both during hot summers and cold winters when you come across sweats. One more material is a micro-coil that helps to provide ample support and relieve back/hip pain.
Finally, it is perfect for those who weigh under 230 pounds. A lifetime warranty is available with 120-trial.
Found prices: $375 – $2,595
Mattress Type: hybrid
Firmness: medium-soft, medium-firm, firm
Warranty: lifetime warranty
Pros
Perfect for women with frequent hot flashes/night sweats;
Side sleepers for reduced pressure;
Great off-gassing
Lifetime warranty;
Cons
Overall Description
A hybrid-type mattress that caters to various types of firmness and weights in pregnant women. Depending on the size, you can find it at low prices, so it tells about affordability. The layers of the product ensure you are deprived of moisture and receive support for ample back and hips.
What Makes It Good?
The best thing about this mattress is its excellent off-gassing. You won't experience irritating smells. It is good for guarding the women's sleep when they move a lot during the night. Minimized events of back and hip pain. Finally, there is a lifetime warranty.
#5 Purple Mattress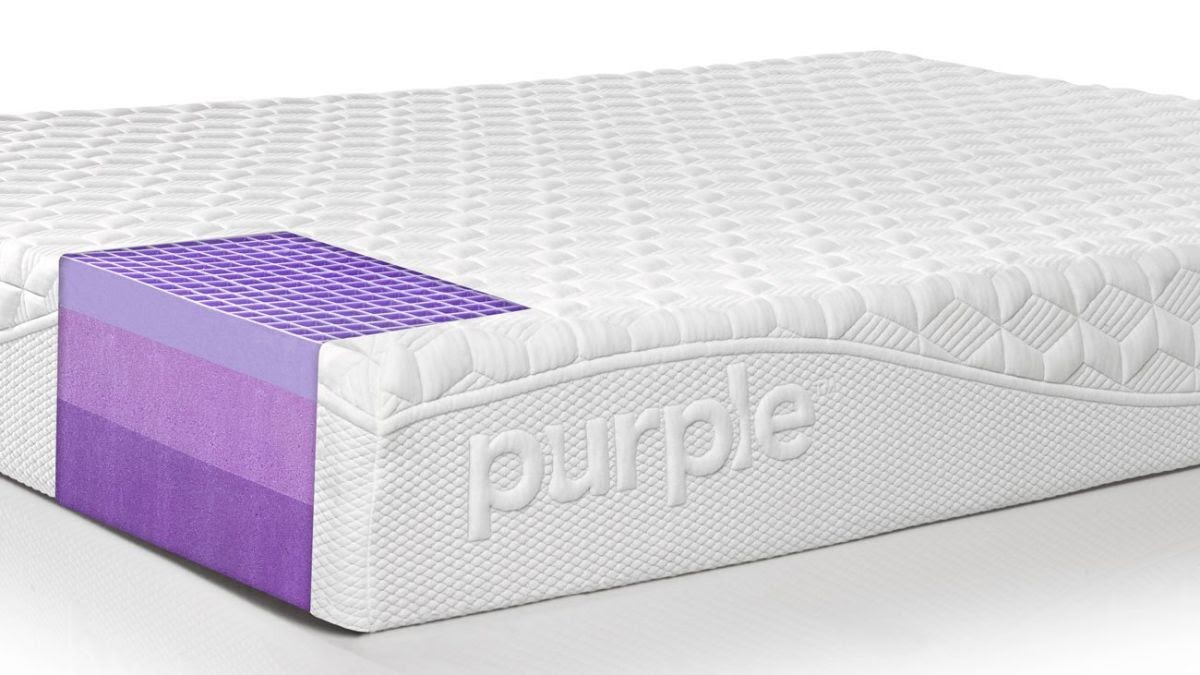 Overview
Another product that cares about the comfort of those women who regularly come across night sweats and hot flashes. It cradles their bodies with a pleasant-to-touch polymer which also caters to faster falling asleep. The brand features a SoftFlex cover that is fully breathable and contours the women's bodies. Your spine always remains aligned, while your body is always evenly distributed across the whole mattress.
Clients mention that the mattress is good for protecting their shoulders and hips. It minimizes back pain and adds a sensation of extra cushioning that helps them sleep without sinking in experiences.
One more perk of the mattress is its greatness when it comes to couples' sleep. It balances all kinds of motion isolation and provides ease of movement. If you wonder about weight options, it is good for those pregnant women who are under 230 pounds. A 10-year warranty is available.
Found prices: $649 – $1,498
Mattress Type: foam
Firmness: medium-firm
Warranty: 10-year warranty
Pros
Good motion transfer;
Great cooling system;
Minimizes pressure and relieves back/hip/shoulder pain;
10-year warranty;
Cons
Poor off-gassing and edge support.
Overall Description
Great for women who regularly turn around across the bed, just want to experience the ease of movements, and do not want to sweat a lot. It helps to reduce hip/back/shoulder pain, and it balances motion isolation. There are no unique features, but the overall impression of customers is great. Yet, the off-gassing system should be worked on.
What Makes It Good?
It is good because of both great motion transfer and cooling systems. It is aimed to deprive women of much sweating or moisture. It perfectly controls the temperature and aligns women's bodies and spines evenly. 10-year warranty is for mattress and 2-year warranty for cover.
#6 Leesa Legend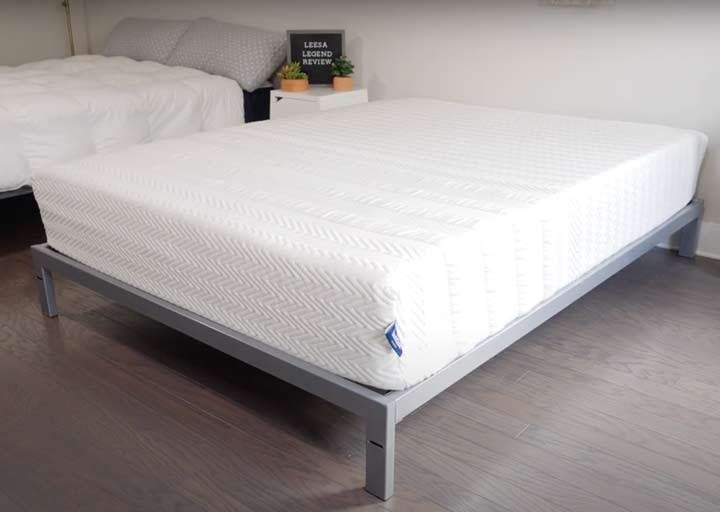 Overview
Last but not least, a great pregnant mattress is Leesa Legend. In simple terms, it is perfect for those women who regularly have frequent sweats during the night, both caused by hot flashes and night sweats. It helps to relieve pressure and balances motion transfer. Beyond that, it is perfect for those who do not like sinking in experiences and those who share the bed with a partner. The coil layers, in turn, help to regulate temperature.
As for the main materials, there are merino wool and organic cotton that both cater to increasing the breathability and eliminating bacteria. While memory foam presented in the product caters to protecting a woman's hips and shoulders.
Finally, the brand offers a 10-year warranty only.
Found prices: $1,799 – $2,599
Mattress Type: hybrid
Firmness: medium-firm
Warranty: 10-year warranty
Pros
Coil layers catering to your comfort;
Foam relieving pressure and regulated temperature;
Fits most bodies and weights;
10-year warranty;
Cons
Poor off-gassing, not very cheap.
Overall Description
A hybrid-type mattress that offers good protection for hips and shoulders thanks to dual-coin construction. Memory-foam, and great motion transfer. It has a 10-year warranty and added cushioning that protects you from sleep disturbances.
What Makes It Good?
This maternity mattress can be classified as good due to good temperature control and motion transfer. Beyond that, it fits most bodies and weights. Even though its off-gassing is poor, the coil layers cater to your comfort, especially if you have a sensitive sleep alongside your partner.
What Is the Best Type of Pregnancy Mattresses?
By overlooking the products from the above-mentioned list, you can find that most of the best mattresses come in hybrid types. It means that a mattress for pregnancy involves lots of features and mechanisms to ensure a pregnant woman comes across comfort. As for firmness options, it is harder to choose. First off, a too firm mattress won't provide you with anything but pressured points and pain in extremities. In contrast, a too-soft mattress may result in sinking in sleep experiences and pain in the shoulders and hips.
So, a medium to firm mattress is the best choice for those who love sleeping on their sides or stomachs and those who love to move a lot during sleep, especially near the partner. A medium to soft mattress is also the best for couples and women who do not like too firm feelings.
Mattresses for Pregnant Women Buying Guide
How to choose the best sleeping support for a pregnant woman? To deprive yourself of unnecessary purchases, you should clearly understand what you are looking for. For instance, you should know what your sleeping cycle is about. It can be sleep disturbances twice a month or regularly, or you have frequent back pain. After that, you should define how much money you are ready to contribute to buying this sleeping support. Since there are lots of mattresses, you can find lots of price ranges that cater to one or another paying capacity.
All in all, stick to the following tips:
Choose the required firmness of the mattress – It may be medium, medium-soft, medium-firm, etc.;
Choose the height suitable for your current bed or future purchase of the bed for pregnant women. You can measure it alone or find this information with the labels of your bed if you keep them;
Learn the main features of the mattress, including its cooling mechanism, pregnancy mattress with hole, motion transfer, pressure relief, among others. The most important thing is the cushioning and evenly distributed bodyweight mechanisms;
Compare the prices – decide where to buy the best. Or, find the sellers and compare their prices until you will find the tastiest offer for your pocket;
Ask the seller about the off-gassing. If you cannot tolerate any smells, you should seek off-gassing of at least 4/5. If you are okay with smells, still do not compromise on it if it is less than 3/5.
Try to avoid concentrating your attention only on the visual aspect of the product. Yes, it should look great; however, during your pregnancy, comfort will play a more vital role. Ask the seller whether one or another sleeping option can provide you with hip/back protection. Or, ask whether a mattress is suitable for controlling moisture, especially linked to hot flashes and night sweats.
Finally, you can always surf the Internet for promotions. Since the brands clearly understand the hard times and that people are currently looking for savings, many discounts exist.
Conclusion
Based on the research above, you have quite a decent choice of mattresses if you are pregnant or are looking forward to equipping your bedroom with such essentials. Pay attention to the firmness that will fit your particular body needs and your best bed for pregnancy. If you avoid buying such a sleeping option, your pregnancy may result in being a bad experience full of pain and disturbances. Once by opting for one of the reviewed mattresses, you partially boost this period of your life. Feel free to refer to this review whenever you experience hurdles in choice.