A good night's sleep starts with the mattress. A good or bad one can completely change the way you rest and, therefore, the way you wake up the next morning. Achy, in a bad mood, or the most rested and refreshed person ever? Much depends on the mattress you are using.
Today's top mattresses seem to compete against each other for winning the thickness award: layers and layers of comfy materials that will make sleeping your favorite activity of the day (if it isn't already). Which is not, per se, a bad thing at all: experience, and thousands of reviews from happy customers all over the world, shows that those mattresses are truly a helping hand in resting well.
However, there is perhaps a niche when it comes to top-tier mattresses, and that has to do with thin mattresses. A lot of people actually prefer a slim mattress instead of the thick ones but don't want to sacrifice comfort nor stability. That is no problem at all: if you are one of these people, the market is full of options for you. But let's start with the basics: what exactly is a skinny mattress?
What Is a Thin Mattress?
Compared to other mattresses, there aren't many types when it comes to the thin ones, as they all share various similarities. One of them, you would have never guessed it, the fact that they are way slimmer than the other. We are talking 5 inches compared to the 18 we see now advertised everywhere. Nonetheless, there are a few differences between thin mattresses as well.
For example, while the typical mattress is normally around 8 inches, whereas the ultra-thin one can be as slim as 5 inch long, as we briefly mentioned before. About the material being used, in most cases, companies prefer producing a thin memory foam mattress instead of going all foam since it meets better the requirements of the majority of consumers and is definitely the most popular option.
Benefits Of Using Thin Mattresses
Benefits are largely based on your own preferences, but there are some of them that are simply too good and will make everyone happy, regardless of their individual choices. Here are some of them.
They are incredibly easy to use. First of all, their weight is, for obvious reasons, very light, which makes them easier to carry around your house and place them on your bed foundation. Second, it is way easier to get on and off a thin mattress compared to a very thick one. This is especially true when it comes to elderly people or children, as it benefits greatly the mobility for both those categories–and everyone else, really.
It saves you space and money. As it is thinner, it takes less space when it comes to shipment, so you spend less on delivery. What is more, slimmer mattresses cost less than average, thick ones, while maintaining the key elements that make them as good and comfortable as the others.
It maintains the majority of the benefits granted by thicker mattresses. Choosing a thin one doesn't mean sacrificing comfort: you can perfectly have all the benefits of a luxurious mattress in a thin one. A win-win for you!
Best Thin Mattress in 2023
Linenspa Innerspring Mattress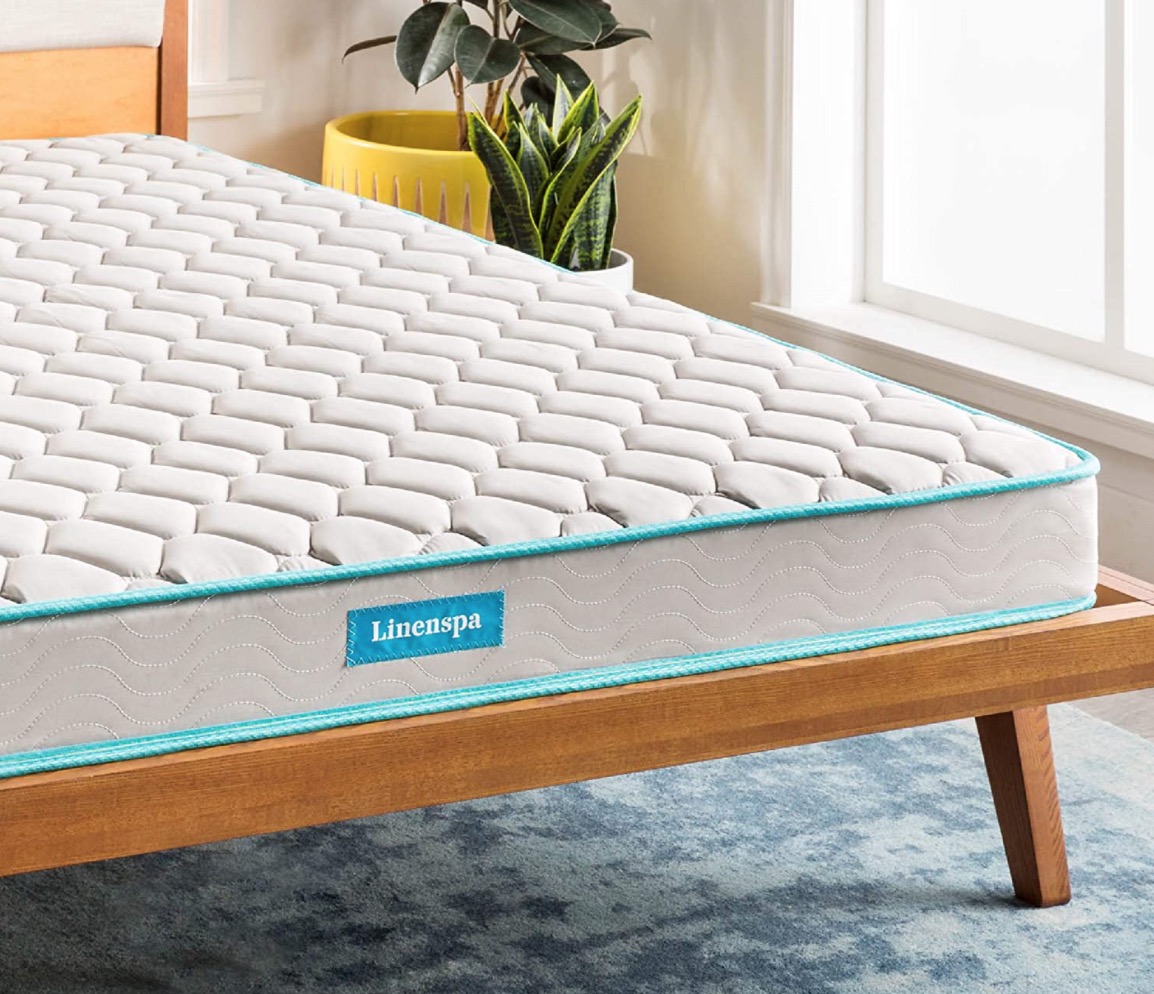 Overview
Only 6 inches tall, the Linenspa Innerspring Mattress is a good product perfect for your guests or children. The price is very accessible, but don't let that deter you from buying: it is made of mostly good materials, aimed at providing you great comfort.
Price Range:
Mattress Type: Innerspring
Firmness: 7 (firm)
Warranty: 10 years
Pros and Cons
+ Very good quality-price ratio: you get a nice mattress at a quite decent price.
+ Versatile, it is designed to fit everywhere: bunk beds, trundle beds, and day beds.
+ Works with any bed base.
– Some materials used are not indicated as good for your health, polyurethane, and polypropylene more specifically.
– Firmness might not be the best for everyone: a firm mattress is good for heavy sleepers, but not so much for side sleepers, for example.
Description
The mattress is innerspring, meaning that it is constructed with 6 inches of high quality, tempered steel coils. The materials used depend on the different parts making up the product we are considering. The cover is made 100% of polyester, while the inner material containing the coils is made of a mixture of polyester fiber, rayon fiber, polyurethane foam, and polypropylene fiber. The mattress comes with a 10-year limited warranty, so if you're not satisfied, you can return it.
What Makes It Good
Its versatility is great and makes it perfect to adapt it to any kind of bed for any kind of person, especially children and elderly people. Indicated also as a bed optimal for making your guests feel as comfortable as at home.
Zinus Green Tea Memory Foam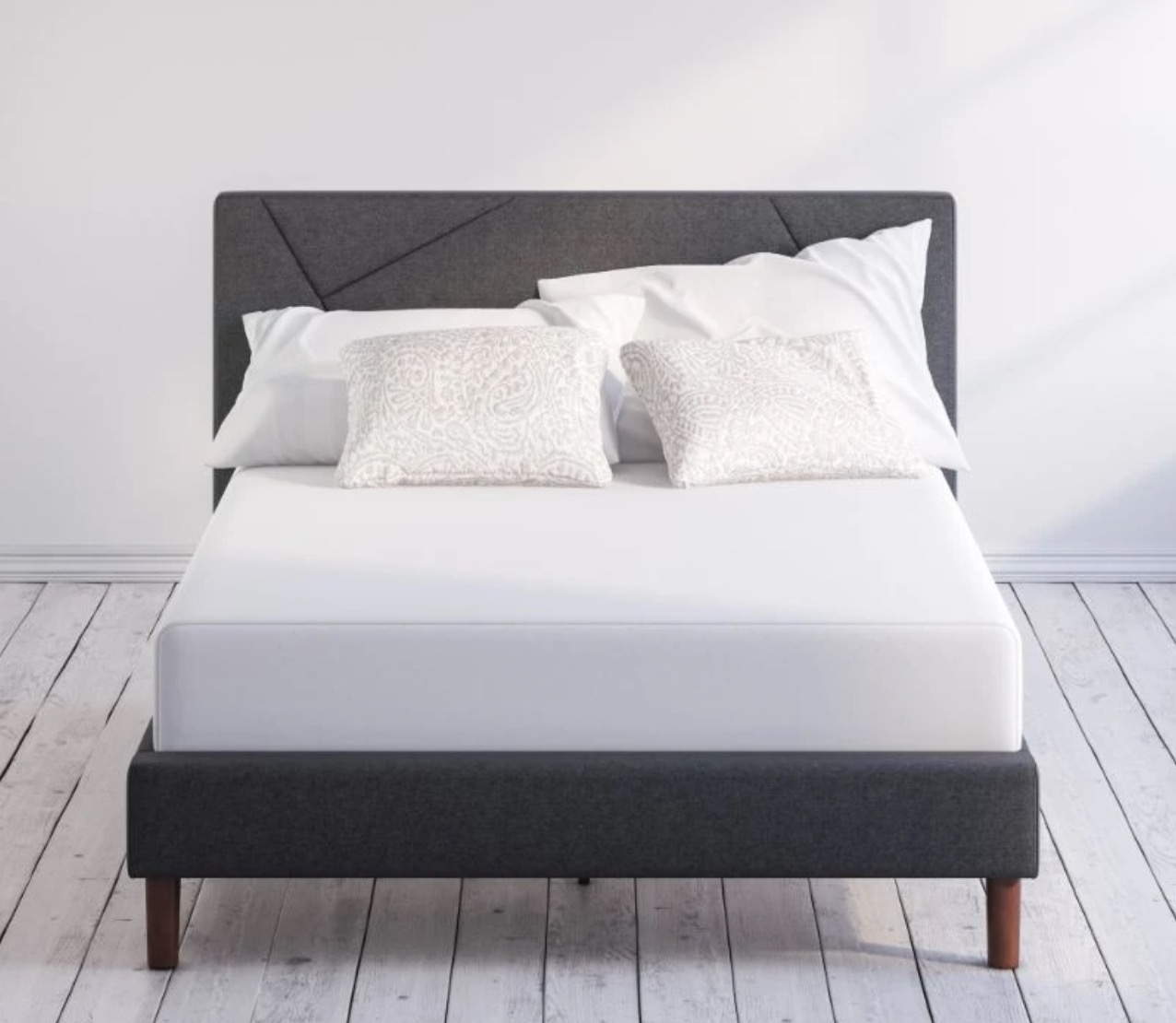 Overview
The number 1 best selling Zinus mattress and one of the best sellers on Amazon, the essence of green tea, among other features, makes this a perfect, thin mattress for a wonderful sleep. It comes in for different thickness options, from 6 to 12 inches, and is certified CertiPUR-USⓇ.
Price Range: $150 – $470
Mattress Type: all Foam
Firmness: 5.9 minimum, 6.6 maximum (medium firm)
Warranty: 10 years
Pros and Cons
+ Natural, eco-friendly materials used and fully integrated in the mattress.
+ Combination of foams so that you get comfort, zonal alignment, and durability regardless of the type of sleeper you are.
– Not designed specifically to keep you cool throughout the night, so you might experience being a bit hotter than usual.
Description
The Zinus Mattress is made of three foam layers, regardless of the thickness you choose. The upper one is made of refreshing green tea extract and moisture absorbing ActivCharcoal complex to wake up refreshed and free of aches and pains. The comfort foam is what makes up the second layer, while the third one is made of base foam to provide full support while you're sleeping.
What Makes It Good
Its natural materials, free of harmful products and chemicals as certified, makes the Zinus an optimal thin mattress for every kind of sleeper. These high-quality materials will make sure you wake up fresh and rested after a comfortable night of sleep.
Lucid Gel Memory Foam Mattress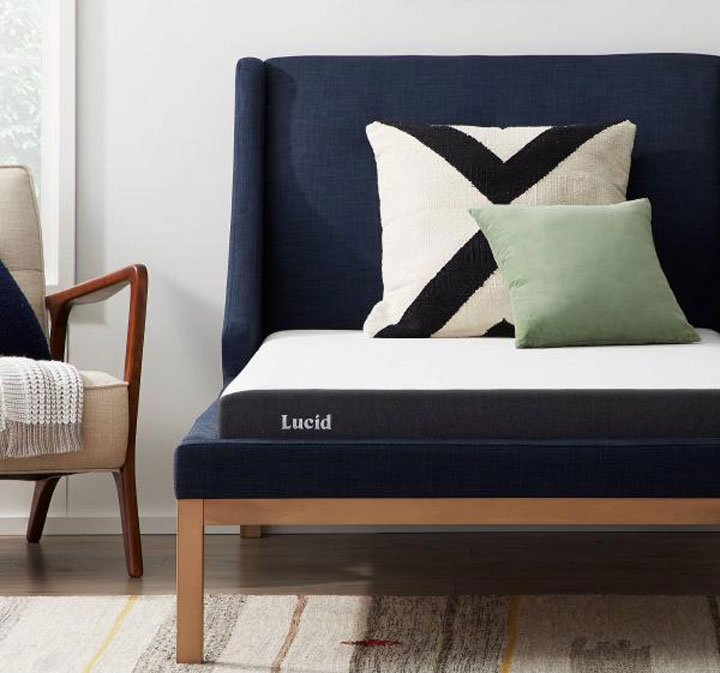 Overview
Designed specifically for kids to ease your child's transition from the crib to a bigger bed. It is also perfect for adults, as it would make a very pleasant impression with your guests.
Price Range: $100 – $180
Mattress Type: Gel Memory Foam
Firmness: 1 / 5
Warranty: 10 years
Pros and Cons
+ Made of eco-friendly materials certified without harsh and damaging chemicals by CertiPUR-USⓇ.
+ Low profile mattress great for limited space setups like trundle or bunk beds.
– Works with any surface and bed frame, but only if its spacing is no wider than 4 inches.
Description
The Lucid mattress is entirely made of foam layers to help with pressure points and give a plush, sinking feel. The 1-inch gel-infused memory foam offers a cooling feature to avoid an excess of heat during the night, made even better by the ventilated top layer foam designed to increase breathability. The dense foam aimed at supporting your body while asleep is infused with bamboo charcoal that will keep the mattress fresh, thanks to its natural hypoallergenic properties.
What Makes It Good
The materials are natural and eco-friendly, making the thin mattress top quality and also reassuring you that your child, or whoever will sleep on it, will be away from bad chemicals harmful to their health.
Modway Aveline Gel Infused Memory Foam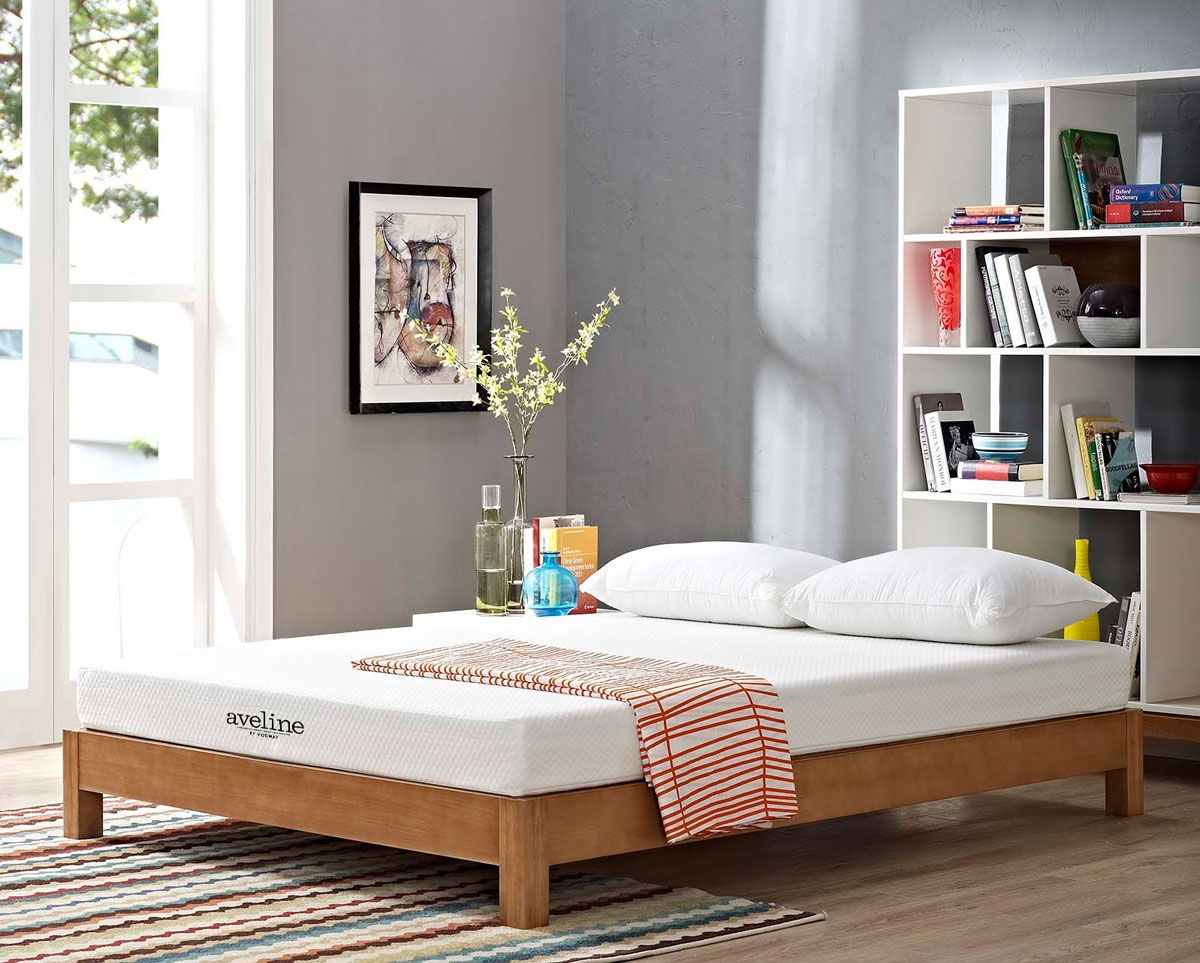 Overview
Built with premium materials for a better night's sleep, this thin, three layers mattress comes in four different shapes (Full, Queen, King, Twin) and three thickness possibilities: 6, 8, or 10 inches. With cooling properties as well as designed comfort for your body, the Modway Aveline model is perfect for everyone.
Price Range: $100 – $120
Mattress Type: Gel Memory Foam
Firmness: 6 (medium)
Warranty: 10 years
Pros and Cons
+ Certifies as flexible polyurethane foam free of harmful chemicals by CertiPUR-USⓇ.
+ Perfectly packed and rolled in a small, portable box that enables for an easy transfer, positioning, and relocation.
– It might take several hours for it to reach the height indicated.
Description
The Aveline mattress is made of three interior layers. The first on the upper side is a diamond-patterned stretch knit, which gives a sensation of softness immediately. The second layer is made of a 1.5 inches gel-infused memory foam, while the last on the lower portion of the mattress is a taller layer made of responsive foam and aimed at being as responsive to your body movements as possible and provide you with good support throughout the night.
What Makes It Good
As soon as you ch, you will feel the coolness of the gel, so imagine what if feels like after spending a whole night on it. That feeling of breathability and being perfectly cool and fresh is one of the perks of this mattress.
Signature Sleep Essential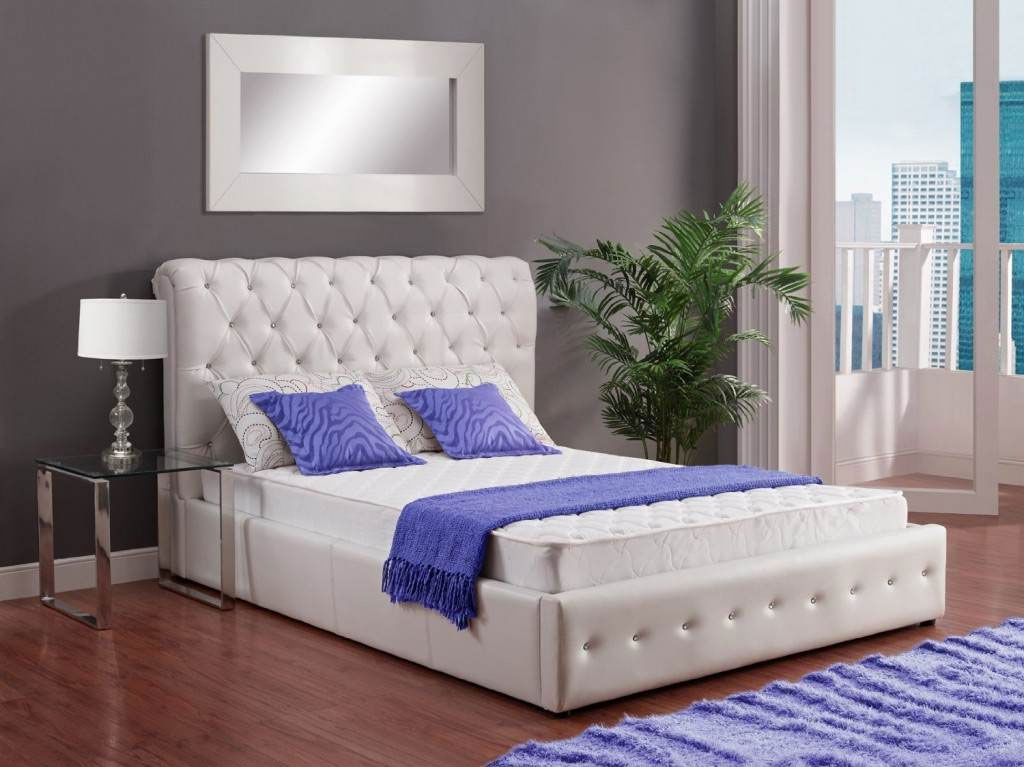 Overview
This 6 inches tall premium thin mattress is made of six layers to provide you the optimal comfort while sleeping. It ships in an easy to transfer box and sets up very quickly, so you can enjoy its perk almost as soon as you place it on the bed.
Price Range: $100 – $150
Mattress Type: Hybrid
Firmness: 3 (soft)
Warranty: up to 15 years
Pros and Cons
+ It is divided in the zones of pressure-relieving comfort, one for your head, the second for your lower back and hip, and finally the third one for the lower legs and feet.
+ A 15 years warranty is more than what usually thin mattresses manufacturers would offer you.
– Only available on online stores like Amazon.
Description
As mentioned earlier, the Signature Sleep Essential consists of six premium layers aimed at giving you the best comfort possible, even in a 6'' mattress. The first is a super soft cover that delivers a breathable and resilient sleep surface, followed by a high-density support foam for exceptional edge to edge coverage and comfort coil springs, which offer proper balance. The other three are a fire retardant barrier, a cushioning insulator pad aimed at relieving pressure, and a two-sided construction to extend the product's durability,
What Makes It Good
The materials used and the way they are assembled make up for a mattress offering comfortable nights of sleep for the whole family, as it comes in four different sizes.
Best Price Mattress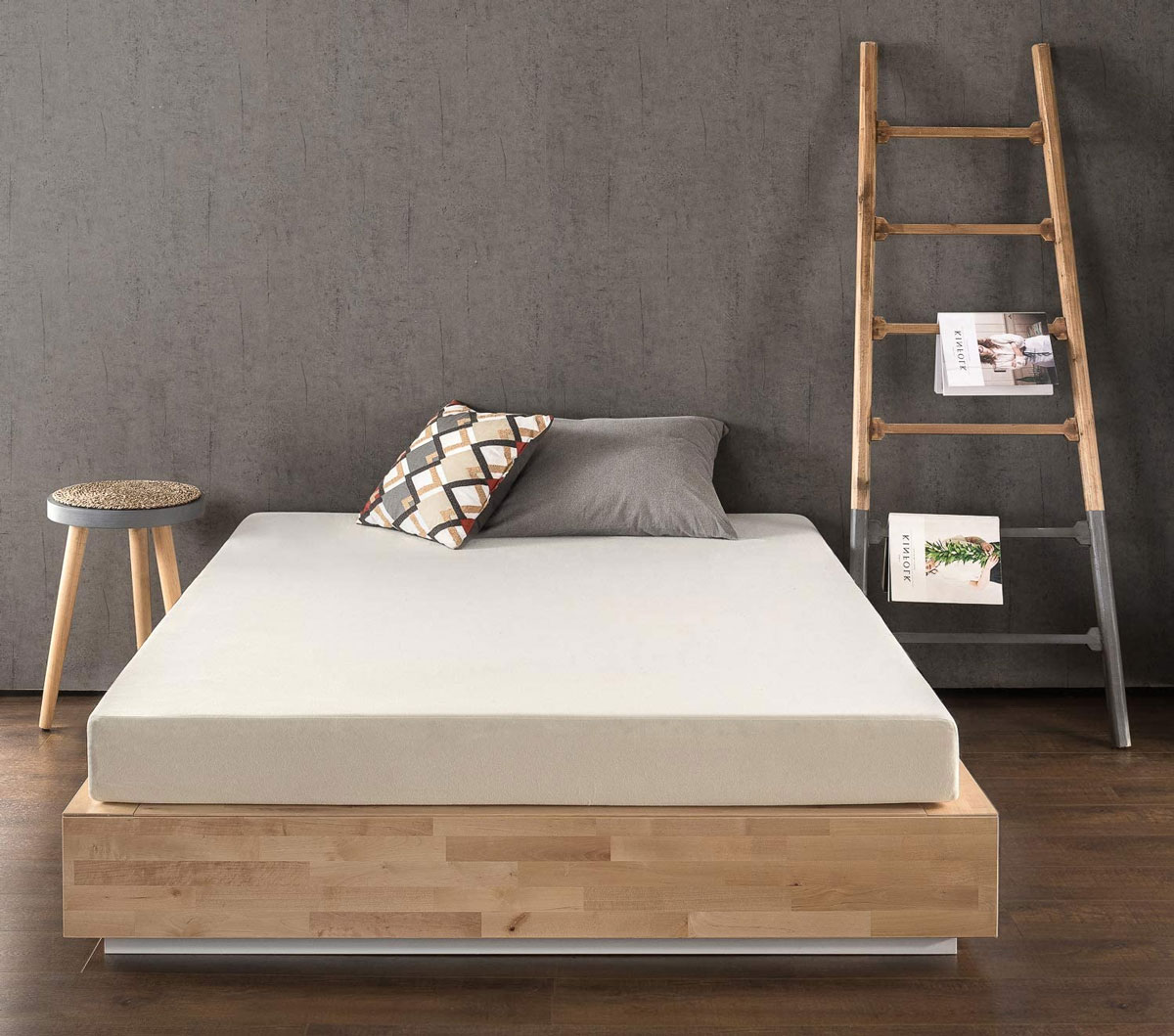 Overview
The name says it all. The company is offering a very decent mattress, comfortable and low-profile, at a very appealing price you won't easily find on the market. Offering extraordinary pressure relief by using clean and certified materials (CertiPUR-USⓇ), the Best Price is advantageous on many regards.
Price Range: $100 – $150
Mattress Type: Memory Foam
Firmness: 7 (firm)
Warranty: 10 years
Pros and Cons
+ Odor control. The green tea extract it is made with contains agents that help mitigate odors, as well as reduce stress.
+ Certified independently by an accredited testing laboratory, it meets all its strict guidelines and standards.
– Might not be as comfortable for heavier people than it is for the others.
Description
The Best Price Mattress is fundamentally made of three layers. Below a soft poly terry cover is the first layer of memory foam made with green tea. The second layer is specifically aimed at providing pressure relief for bringing comfort to joints, back, and shoulders. Finally, the last layer is a high-density base foam. It provides the perfect foundation for the other layers in order to provide you with as much support to your body as it is needed.
What Makes It Good
The fact that it perfectly adapts to the temperature of your body to modify its shape while maintaining a cool and fresh atmosphere thanks to its breathable and ventilated foam design, which optimizes airflow.
Classic Brands Cool Gel Mattress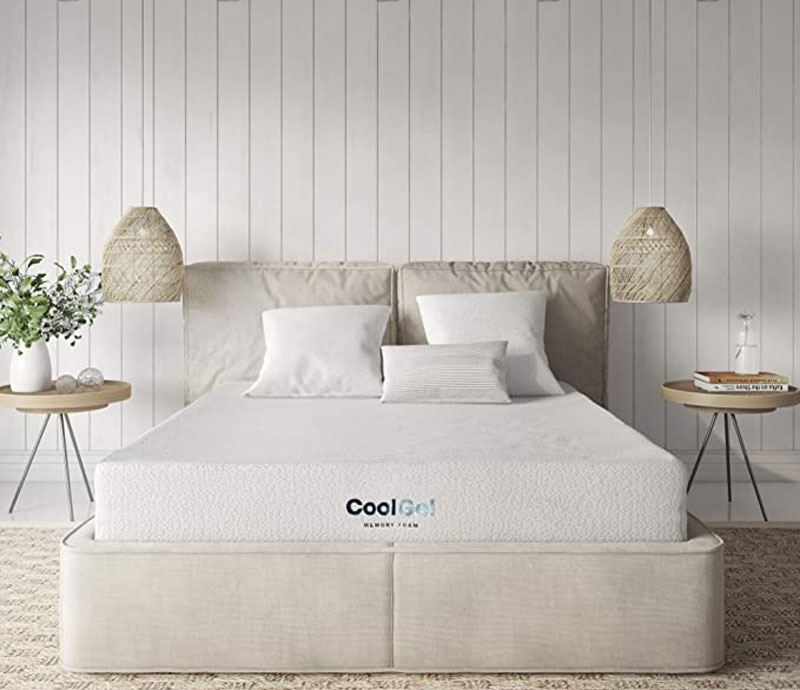 Overview
Classic Brands designed this mattress to give you instant relaxation and pressure relief but without sacrificing a good body temperature. The Cool Gel will give you all the perks of a fine thin mattress as well as protect you from excessive heat to keep you cool throughout the whole night.
Price Range: $100 – $150
Mattress Type: Gel Memory Foam
Firmness: 6 (firm)
Warranty: 10 years
Pros and Cons
+ The gel foam will protect you from high temperatures, so you wake up the next morning super fresh.
+ CertiPUR-USⓇ to certify the mattress meets high-quality standards and is free of harmful chemicals.
+ The medium firm feel makes the mattress perfect for everyone regardless of their sleeping positions.
– A home trial is not provided.
Description
The Cool Gel is only made of two layers. The first one is the Cool GelⓇ foam, which provides a cool, self-ventilating sleep surface. The second is a high-density foam built to provide full orthopedic support to your body. Hypoallergenic, it provides immediate conforming response and also gives you the benefit of low motion transfer, so you can get up without awakening your partner.
What Makes It Good
Certainly its cooling technology (hence the name). The mattress' design is aimed at providing breathability and temperature regulation because a big part of comfort in a mattress comes from its ability to keep you fresh.
Factors To Consider When Choosing a Low Profile Mattress
Quality of the Products
We can have a more or less clear idea of how good the mattress is by just looking at the materials used. Even though the language of some manufacturers may be deceiving, to make you think they used the best materials when in fact is quite the opposite, an easy way to find out what the truth really is is to check what certificates they hold.
If it is a legit mattress, then all those certificates will be shown to you as soon as you visit the company's website. We are talking about independent bodies and authorities that certify a certain material is free from toxic chemicals and elements that could end up being harmful for your own health. The CertiPUR-USⓇ is a must, but not the only one: if the certificates shown are official, then of course, the more a mattress has, the better.
Try to aim at those products made of organic or natural materials and that present eco-friendly and sustainable labels because it means they are using the most expensive materials and, thus, truly the best of the best.
Durability
Time is the hardest test of all for every mattress, whatever its type or quality. Nonetheless, there are some elements that will certainly extend the life of your thin mattress. As an example, if you are buying a spring, innerspring, or hybrid, then you must know they typically last a bit less than other mattresses. That is because the coils and springs they are made off with some time start to lose the ability to provide stability to your body.
Make sure you know exactly how long the warranty will be and how many days of trial, if any, you have at your disposal. The more nights you are able to test, the more likely it is that the manufacturer is confident the product will surely survive through time and many years. A long, even better if lifetime, warranty may even cover the problems related to an eventual sag of your mattress.
Coolness and Other Features
When looking for a new mattress, it is fundamental to consider the features the manufacturer is offering you with their product. Apart from obvious premium comfort, which should not be taken for granted (hence the importance of labels and certifications we talked about earlier), there are a few key factors to consider.
One of those you should never overlook is the capacity of preventing heating of the mattress. Obviously, it will be subject to moisture and heat, so it must be able to prevent you from feeling the discomfort caused by them. It is difficult to find a thin mattress that will actually cool your mattress, but at least its capacity to keep your body at room temperature is indispensable.
Other features include the firmness of the mattress, which depends on your sleeping position and habits (we advise you to go for medium firmness if you don't have a strong preference). In addition to that, some other mattresses give you the possibility to flip them from one side to the other either to slightly change the firmness you will be sleeping on or to re-use your mattress after one side has worn off.
Conclusion
All things considered, a thin mattress might be one of the smartest choices if you are looking for a comfortable, high-quality but affordable, and easy to use the mattress. Even though the more thick ones are typically the most selled ones and receiving more interest from consumers, slim mattresses are gaining popularity because of the many advantages they provide, especially to children and elderly people.
It might not be easy to find the best thin mattress, but the ones from our list are truly legit and top-notch. If you'd like to search the market by yourself, follow are tips and advice, and you'll soon find the perfect product that will make your sleep more restful than it has ever been.