How many friends do you have that regularly stay in your house over the night? If several only, and you have enough space to accommodate them, it is great. Yet, for those people who have many guests who do not mind staying overnight and limited spacing, the best air mattresses will be the best choice. So, what is the best air mattress for everyday use? First off, they are ideal in terms of flexibility. You can move and hide them whenever they are not needed. Secondly, they are comfortable.
If you think about buying such a sleeping option as your own guilty pleasure for everyday use, it fits this purpose as well. So, take a look below, where you can find a list of air mattresses that boast quality and affordability corresponding to it.
Best Air Mattresses for Everyday Use
Please, note that all air mattresses reviewed below are picked only based on customers' feedback and their satisfaction with the product. Therefore, you can rest assured knowing there is no place for any kind of promotions.
#1 SoundAsleep
Overview
SoundAsleep is among trending providers of air mattresses. Clients love it due to a sole regulation of sleeping preferences when they sleep on every side of the product. The durable air mattress has a dual-chamber construction. Whenever you want to share it with another person, you can both set the preferred level of inflation. And do not sacrifice comfort for each other. Then, it is powered with SureGrip technology, which stands for the utmost stability, so you won't travel across the mattress.
Price Range: $87.29 – $151.75
Mattress Type: air
Firmness: firm
Warranty: 1 year
Pros
Easily transportable
Good for couples
Good for active sleepers who move a lot during sleep
Dual-chamber construction
Can support up to 3 people
Cons
Not for medical patients
Not all bed sheets are suitable
Adjustment of inflation only upon stepping out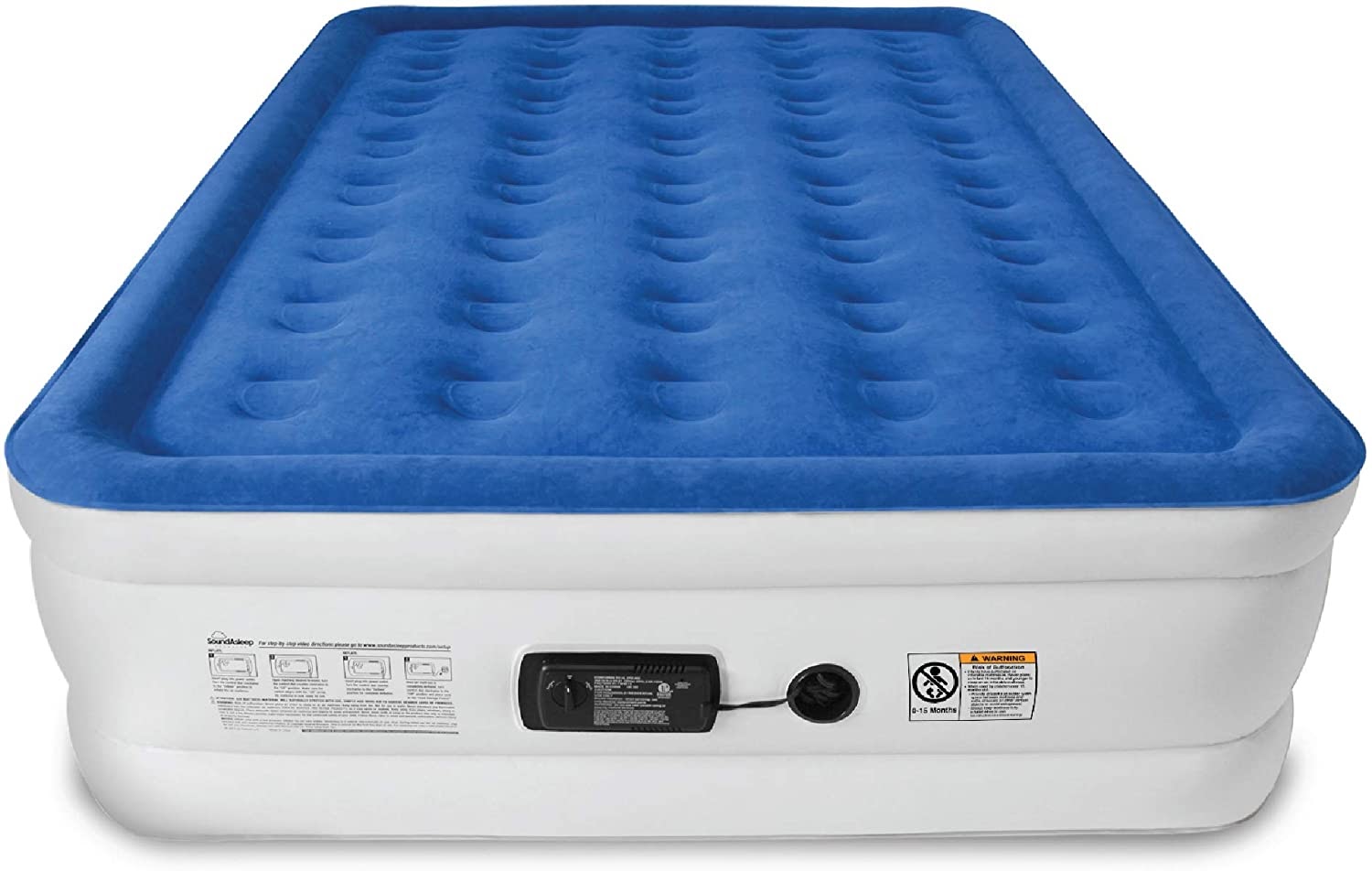 Overall Description
This dual-chamber mattress comes with two sides adjustment. The bottom is designed with boosted sturdiness. The mattress comes with a waterproof top cover which is easy to clean. It may be used for domestic purposes, as well as is great for camping. It fits active sleepers who like to move a lot during sleep.
What Makes It Good?
The main perks are adjustment of side layers when you share it with a partner or friend. If needed, you can purchase it for 3 people sharing. Then, the air mattress is good for stability when you move a lot. The prices are tasty as well; hence, the twin size option may be found at $87 only.
#2 King Koil
Overview
This most durable air mattress is a good fit for those who like the feelings resembling regular beds. It means that both you and your friends won't complain much about sleeping on the floor. As for the perks found with the inflatable product, there is an air coil system that helps to keep the mattress properly shaped without any sinking in experiences. Its firmness prolongs durability and resistance. Then, this air mattress has velvet sides that allow you to enjoy every touch without any plastic feelings.
Price Range: $120 – $284
Mattress Type: air
Firmness: firm
Warranty: 1 year
Pros
Built-in pumps for quick inflation/deflation
Firmness adjustability
Durable materials and pleasant-to-touch velvet sides
High construction
Cons
Air leakages are possible
Quite heavy, and not suitable much for camping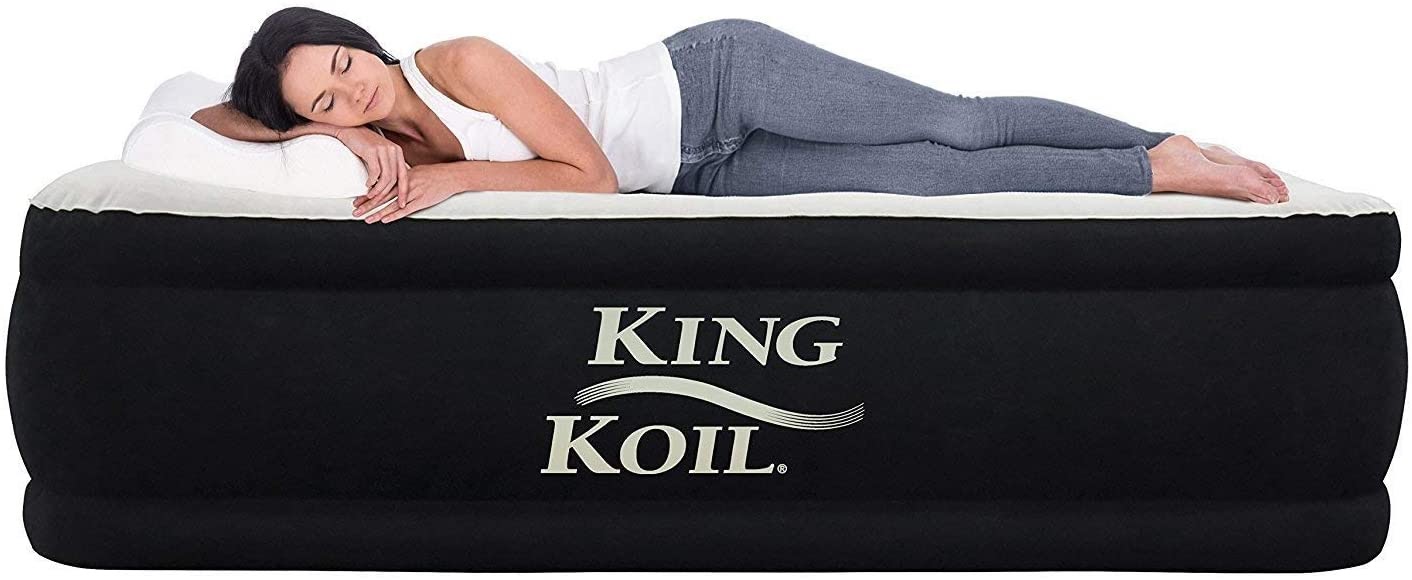 Overall Description
This air mattress is great for everyday use when you do not want to miss your regular bed. You can adjust the firmness, while velvet sides provide you with comfort. The built-in pump makes it easier to inflate and deflate the mattress. It takes less than 3.5 minutes. It is pretty compact; however, some users claim it is heavy and not so great for transportation.
What Makes It Good?
The main benefit of this air mattress is a built-in pump. You can spend less than 3.5 minutes preparing your sleeping spot. It is also good if you are an active sleeper. You can travel across your mattress with no trouble.
#3 Active Era
Overview
This is another competitor to the previous air mattress since they are both high-rise options. There is a built-in pump for inflation and deflation. You can easily adjust the firmness level per your needs and comfort. Then, this sleeping option is known for its ergonomic and compact design. It has raised edges that can serve you as extra pillows. As for materials, they are all durable, and the product will maintain its shape for months or years. It has puncture resistance as well.
Price Range: $65-$69
Mattress Type: air
Firmness: adjustable
Warranty: 1 year
Pros
Perfect height for regular bed experiences
Adjustable firmness
Built-in pump
Raised edges
Cons
Not good for camping
Quite heavy when carrying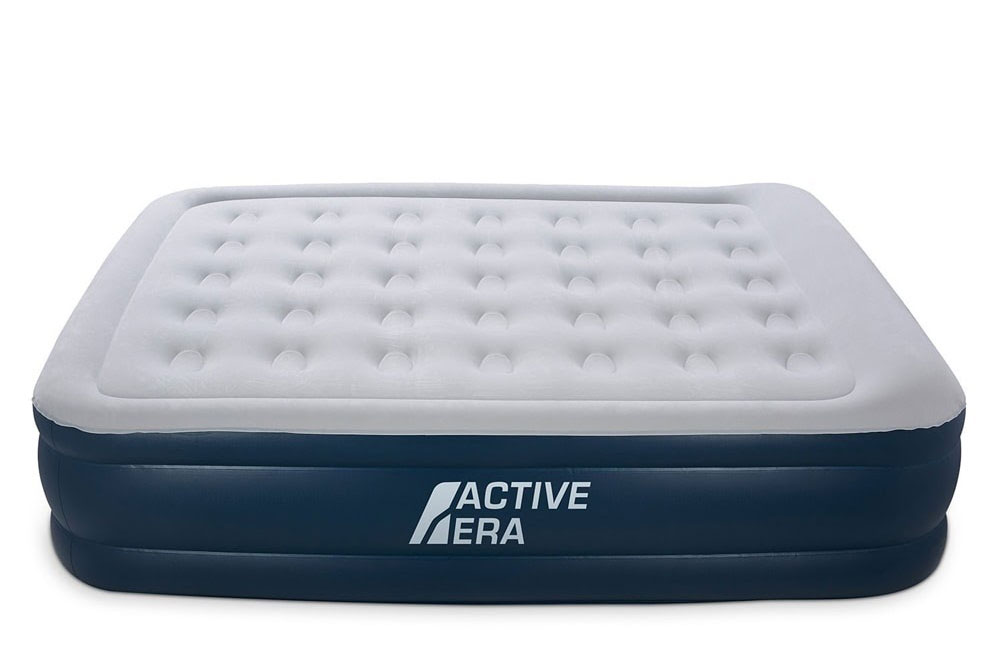 Overall Description
This best air mattress for long-term use comes with raised edges that help you at least partially forget about the pillow when you do not have extra. The manufacturer offers a 1-year warranty; however, all the materials are quite durable and may resist punctures. Beyond that, the manufacturer is featured by the International Chiropractors organization.
What Makes It Good?
The main benefit of this air mattress is its affordability. You can find this product at less than $70, so buying a few of them for everyday use will be linked to savings. Another thing that makes it a great choice is raised edges.
#4 Air Mattress King Size
Overview
The next stunning long-term air mattress with adjustable firmness is Air Mattress King Size. It comes with advanced back support that will help you avoid pain. The edges are sturdy. Beyond that, there are built-in pumps for inflation and deflation. The strong vinyl material enhances the durability of the product. The fitted top sheet of the air mattress also comes with warm layer experiences that promote healthy sleep. Plus, it is fully hypoallergenic.
Price Range: $75-$80
Mattress Type: air
Firmness: firm
Warranty: 1 year
Pros
Super hypoallergenic
Laminated materials
Back support
No leakage
Cons
Might require some getting used to periods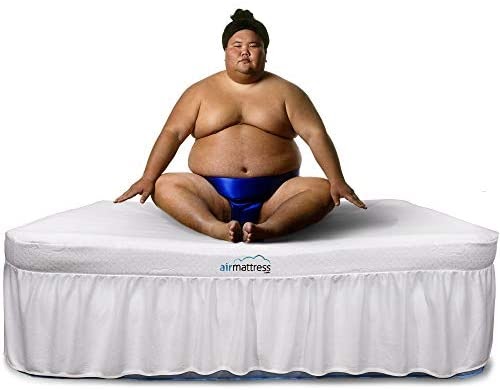 Overall Description
As the name suggests, it offers King-size sleeping experiences. The air mattress has durable materials that are not linked to leakages. The construction fits those who have regular back pain and those who are allergic to components with most mattresses. There are convenient built-in pumps that facilitate the preparation of a sleeping place.
What Makes It Good?
The average prices, good materials, back support, and built-in pumps are the main perks with this air mattress. By getting used to this best air bed for everyday use construction, you can easily forget about sleepless nights. Beyond that, it is good to share with your friends or partner.
#5 Noble
Overview
This air mattress is known for its smart design. It is quite high if you want a regular bed experience. It is powered with a beam coil mechanism that is aimed to provide you extensive support of the back, shoulders, hips, among others. You feel only balance and comfort. There is a soft flocked top and puncture resistance. When it comes to edges, they are quite raised. And, of course, there are built-in pumps for quick inflation and deflation.
Price Range: $50-$60
Mattress Type: air
Firmness: firm
Warranty: 1 year
Pros
Great for tall people
It perfectly fits people who have a big weight
Raised edges
Integrated pumps
Support for body
Cons
Material can seem a little bit cold
Isolation is poor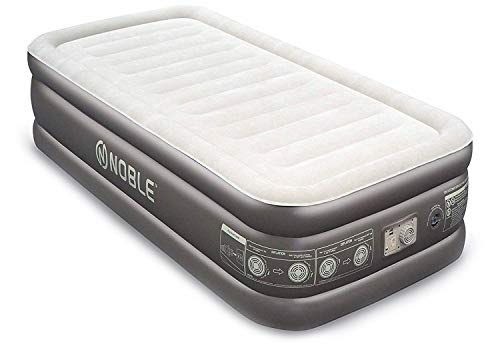 Overall Description
This sleeping on an air mattress long term for everyday use is the best choice for those guests who have big weight. It has comfortable raised edges for extra pillow experiences. Integrated pumps make it easier to prepare your sleeping spot. If you need support for your body, Noble will provide it for both back, and shoulders among others.
What Makes It Good?
The best thing is its affordability factor. You can access great savings if buying some of them instead of one. Then, it is again about support for your body. Finally, it ideally fits taller sleepers, so they won't experience inconveniences waking up and falling asleep.
#6 Etekcity
Overview
The last but not least representative of air mattresses is Etekcity. It is ergonomic and compact, which means you can use it both indoors and outdoors. It is great for camping fans.
It is powered with beam support which is more durable and fits those who have a big weight. The mattress has a rechargeable pump for inflation and deflation. Yet, it is not so high; hence, some people may lack regular bed experiences.
Price Range: $50-$300
Mattress Type: air
Firmness: plush
Warranty: 1 year+ 1 upon registering with them
Pros
A go-choice for campers and outdoor sleeping
Good for people with a big weight and active sleepers
Durable materials
Extended warranty if you register with the company after the purchase
Cons
Not so high, hence, does not fit fans of a regular bed sleeping
Pumps take some time for charging, which may be tiresome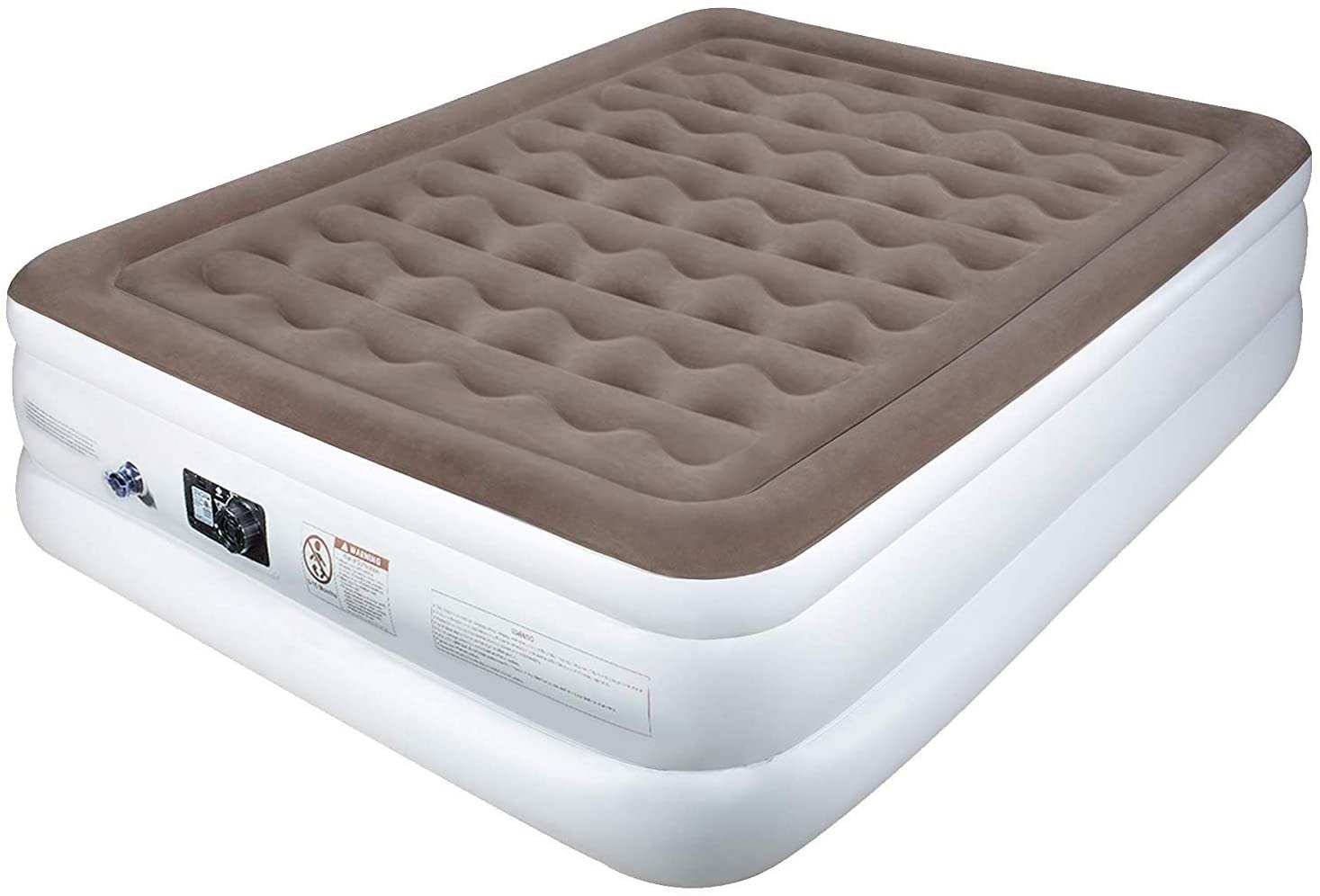 Overall Description
Even though this sleeping on an air mattress is not linked to height, you can experience comfort and support for your body. It is an ideal choice for everyday use and camping. You can place it outdoors and dive into healthy sleep under the sun. The air mattress has good pumps, however, they may make you wait for some time during charging.
What Makes It Good?
Affordability and support of all your body. Good design and durable materials.
Types of Airbeds and Their Features
If you are new to such types of products, you can learn more with this section. First off, there are lots of airbeds and their brands. Yet, you should understand that airbed and air mattress are quite two different things. Air mattresses should be used mostly for indoor use, while airbeds fit both. Let's still stick to air mattresses.
The most popular types are:
Foam Mattresses
Such mattresses are made with either single/multi-layer memory foam. It contours your body and balances it across the mattress without causing discomfort. One's weight is evenly distributed. Such memory foam mattresses may withstand big weights and fit both tall and small active sleepers.
Then, this product can be powered with beam or coil constructions to provide support for the back, shoulders, hips, among others. Some of them do also fit medical patients who require rehabilitation.
Alternating Airflow Mattresses
This type is all about relieving pressure and providing soft to firm sleep experiences. Beyond that, it may perfectly cope with medical patients' needs such as comfort when treating pressure sores or their prevention. Then, it is also good for promoting blood flow to the skin. Such mattresses are good for those who like less noise.
Hybrid Air Mattresses
This type is a pure mixture of alternating airflow and foam memory mattresses. It boosts the blood flow to the skin and promotes comfort as well as pressure distribution. It is the best choice for patients who have a risk of sores.
Tips for Purchasing an Air Mattress for Everyday Use
Now, when you are aware of the best air mattresses for everyday use and can choose any of them for your next sleeping journey, do also learn the purchasing tips.
Understand your sleeping cycle. You should know how you sleep and what inconveniences you usually face. It may be night sweats, back pain, active moving across the bed, or regular falling from the bed;
Decide on the firmness that you will find beneficial. Some sellers can advise you, however, the best choice is to rely on your doctor's recommendations. The most popular option is firm;
Find the brand that has only positive rankings and feedback from customers. Learn why they recommend one or another brand;
Learn the pricing policy. Even though air mattresses are not the cheapest products, you should not sacrifice the quality. The above-mentioned products are available even at $60 depending on the size required;
Find where to buy it the best. You can refer to the designated local shop, where you will also receive a consultation. Or, you can order it online, however, do it with official providers and sellers;
Learn the payment methods. Note, this step should be very careful. There are many unofficial sellers that will hook you on their tantalizing prices. As a result, you can lose a fortune of money and receive nothing. Again, do stick to official sellers only;
Upon placing the order, learn the delivery timing, so you can prepare a spot where you can put it;
Finally, do not forget to learn more about warranty and recommendations from the manufacturer. You can learn whether there are maintenance services. Or, learn the parties where you can refer to fix one or another issue with the mattress (if it exists). If you look for extras, some sellers and official distributors do also offer promotions and discounts. So, hurry up to grab one alongside your air mattress.
Conclusion on The Instruction on the Best Long-term Air Mattress Choice
All in all, air mattresses are great. They are a go-choice when you have regular guests in your house, or you just are fed up with regular bed experiences. By choosing any of the above-mentioned products, you receive comfort. Then, those products are powered with advanced mechanisms and systems aimed to protect your body. Some help to support the back, some shoulders, and hips. In contrast, some may even be suitable for medical patients who require such sleeping options.
There are also options for camping and active sleepers who cannot resist moving a lot during sleep. When it comes to the price factor, you won't throw money down the drain. Those brands are linked to the reliability, hence, they won't charge you for unknown features.